This week for Trim Down Thursdays post I am going to share with you some fun and helpful things that I have been able to use to get started on being a healthier me.  Thanks to Gaiam and their newly released yoga DVD's I have been able to start a wonderful new workout regimen!  I have never tried yoga before and this is definitely a great way for newbies to get going!

Rodney Yee's A.M. & P.M. Yoga for Beginners is something I highly recommend for everyone.  This is a very simple to follow DVD that I really enjoy doing everyday.  In the morning baby Tates and I like to start our day with this wonderful wake you up activity.  It is a great way to feel stretched and ready to take on even the gloomiest of 'Mondays'!  The A.M. Energize session is 25 minutes which is perfect for a little activity to jump start your day but quick enough that Tates can follow along and not get bored.
The P.M. Unwind session is also 25 minutes and is a fabulous way to end your day and begin the relaxation process of your evening.  The session is instructed by Colleen Saidman (guest hosting on Rodney's video) and we really enjoy doing this right before or after bath time to get any loose energy Tates might have out.  I really love that this video is so kid friendly, Tates is 26 months old and loves 'working out' with mama!
I was also lucky enough to receive the Massage Therapy Kit which is great when the kids aren't stealing the balls to toss around lol.  This kit includes:
25-minute yoga stretch routine

1 Large Ball, 6″ (15.2 cm)

2 Small Balls, 3″ (7.6 cm)

1 Small Ball Sleeve

1 Needle for re-inflating included balls
This is great for learning how to stretch the proper way AND fabulous if you have sore muscles.  The balls allow you to use your own body weight to massage away tightness which will allow you to enjoy a deeper state of relaxation.  I also like to use them for light massage with Tates and the balls allow for an even distribution of light pressure so you are sure not to harm anyone you might use them on.
You can purchase these great tools for yoga and relaxation in your own home directly from the Gaiam website.  If you sign up to receive Gaiam emails you will get a 15% discount on your purchase!  You can also connect with Gaiam on Facebook and Twitter!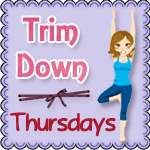 Make sure you head on over to see what Amanda from Coping with Frugality has up for today's Trim Down Thursday's post!  I think you will be excited to see what she has COOKING!  And please link up your health related posts!