We are huge baby wearing fans and take a carrier everywhere with us.  The problem we tend to have is the carrier gets dirty as it is always getting tossed in the car (ending up on the floor) or getting drug along the ground (if someone isn't paying attention) and as many baby wearing people know you can't just toss your beloved carrier in the washing machine so I was elated when I was introduced to Red Charlotte.  Every baby wearing family must have an original stuff for every carrier you own.
Charlotte the creator of the Original Stuff Sack is simply brilliant in my opinion, I mean seriously I wish I would have thought of this.  Most carriers come in a box and you don't want to tote your carrier around in it and honestly I have never seen anyone use their original box, like me they just carry it around and try to keep it clean.  These stuff sacks can accommodate your Ergo, Beco, Boba, BabyHawk OhSnap, Kanga, Onya, Bamberoo, Mei Tai, Kinderpack, Baby Bjorn, Snugli, Manduca, Pikkolo, Patapum, Moby, and slings.
Available in several fabulous prints, each stuff sack comes with a coordinating handle on the bottom and a decorative strip on top along with a heavy duty shock cord & a high-quality barrel clasp closure. If your stuff sack gets dirty you can simply toss it in the washer and hang to dry.  Charlotte has put together a wonderful picture demonstration for using her stuff sacks and I also took pictures to show you that even if you don't follow her exact directions the stuff sack still works great (basically you can mess up the folding if you are out and about on the go and the stuff sack still has you covered!).
And now a quick stuff sack demo by me!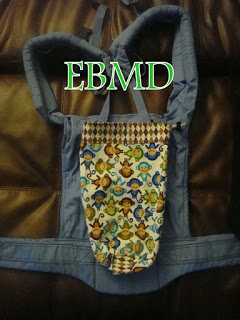 Just wanted to show you size comparison here, stuff sack on top of my Ergo
This is the stuff sack with my Ergo in it in my diaper bag, it fits so perfect!  No more buckles everywhere!
Our diaper bag is full and has our carrier in the stuff sack and still closes!
You can see the stuff sack makes taking your carrier a cinch.
Charlotte also makes stylish Sucking Pads for your carrier!  These are great for little ones that are teething.  These great sucking pads are:
Charlotte takes customization to a new level by offering embroidering on your sucking pads!
Baby Tates seems to think the stuff sack is his 'Chef' hat and tends to get upset if I use it for his carrier!
So what is your favorite fabric Charlotte offers?  Charlotte offers regular and organic fabrics! You can see all the names in her shop!
Buy It:
Win It: