I participated in a Influencer Activation on behalf of Influence Central for First Response. I received product samples as well as a promotional item to thank me for my participation.
Whether you are trying to conceive or just realizing your monthly visitor is late, having an accurate and easy to use home pregnancy test is a must. If you have ever spent a few minutes waiting on results you know that every second can be an eternity full of a rollercoaster of emotions. Then the moment of truth and your results are inconclusive? WHAT?! Did I follow the directions correctly? Wait did I take the test too early or ahh what is going on?! Piece of mind is only a drugstore away thanks to the First Response Early Result Pregnancy Test. When I found out I was expecting Tates I had First Response's accurate results to celebrate with my family and I knew very early, so early my dr didn't even need to see me yet!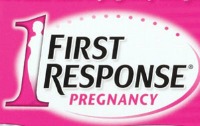 The reliable name First Response has been a staple for my family and for good reason. The First Response Early Result Pregnancy Test is the only brand that can tell you up to 6 days before your missed period whether you are pregnant or not. Easy-to-read results in 3 minutes with over 99% accuracy from the day of the expected period is real piece of mind. Simply check the display window and see two pink lines for a pregnant result, one pink line being a not pregnant plus you can take the test anytime of day so it is convenient for YOU.
Women have curves and now so does the newly designed pregnancy test we can all rely on. The cutting-edge curved shape is designed to fit a woman's hand and the longer handle makes it more comfortable to get your accurate results. No more messy possibilities, with the 50% wider tip it's easier to test with confidence and ease your nerves.
In no time you will know exactly what is in your immediate future and without breaking the bank too. Convenient 2 pack First Response Early Result Pregnancy Tests are $8.99 - $15.99 and available at major drugstores, mass and grocery stores now. Have you tried the newly designed First Response Early Result Pregnancy Test? What do you think of the improvements?