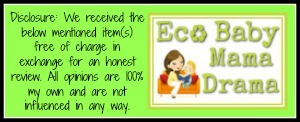 Are you trying to find an easy way to be just a little more eco friendly? If you have kids, you may be trying to avoid cleaning products and toys with all of the toxic chemicals that so many things come with these days. I've got the simple solution to how you can make small and easy changes in your home that will make your family healthier and you happier!

I was really excited when given the opportunity to test out the
ATTITUDE Little Ones Collection
. They sent me some laundry detergent, dish liquid, biodegradable wipes, bubble bath, 2 in 1 shampoo and conditioner, hand soap, and toy cleaner. An entire collection of eco friendly household goodies!
Each item is completely safe for your little one, and completely safe for the environment at the same time. Not only do they have the things that they sent me, but they also fabric softener, fabric refresher, stain remover, lotion, sunscreen, sunscreen remover, hand soap, diapers, and so much more!
Each product comes in really cute, vibrantly colored packaging that will not only appeal to your kids, but it's cute for parents, too. Finding products that are good for the environment, and still work well doing whatever they were made to do isn't easy, but with this website, you'll find all of that and more.
No more using products with more chemicals than you can name, let alone pronounce, now you can have great smelling, and working products that won't harm your child, or anything else.
Using ATTITUDE in our daily life has been a blessing honestly. With the adorable cartoonish characters making it fun for the boys to help me with cleaning tasks from laundry to their own toys it makes my life easier and my mind at ease that I know they are safe from any harmful ingredients. I'm gonna share a secret….we have a bit of fun making the cute characters "talk" while we are using them

.
Do you like to use products that are chemical free? I definitely recommend the entire line from ATTITUDE. Have you tried any of their products? Which ones do you love?