When I found out I was pregnant with Tates I immediately started to daydream about the perfect nursery. What colors I would choose, what theme would be fun yet timeless and what furniture did I need to make the perfect haven for my new little bundle of joy to grow up in.
Nine months can go by quite quickly when you are preparing for such a blessed life change as a new baby and luckily Walmart has you covered every step of the way from pregnancy through the arrival of your baby. It's great to know there is a quality line of baby gear and products at everyday low prices you so you can afford to furnish the nursery of your dreams.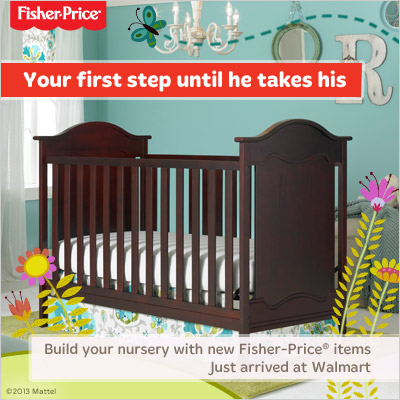 The first thing that I thought about shopping for was a crib. With my older son we had a drop side crib which has since been recalled so hunting down the perfect crib was at the top of my list. I wanted a classic piece of furniture that would last through more than one baby (you never know right? 😉 ) as well as convert into a toddler bed when the time came. With the amount of time babies spend sleeping, the crib is definitely one of the most important pieces of furniture you will purchase.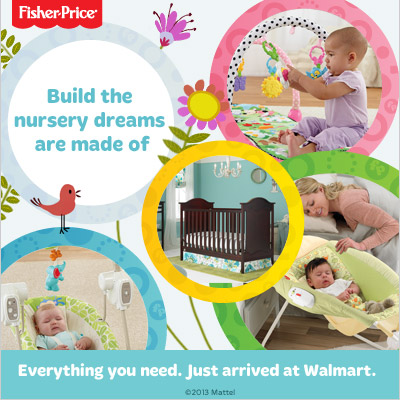 I absolutely adore the wide selection of stylish and affordable Convertible Cribs by Fisher-Price and being able to see the quality construction at my local Walmart was what sold me hands down. From traditional styles to modern designs, available in a rainbow of colors, the unique pieces will allow you to transform your nursery visions into the perfect serene haven for your baby.
Make sure you check out all the wonderful Fisher-Price necessities available for your pregnancy and your little one at Walmart today!
What baby gear would you love to own from the fabulous line of Fisher-Price at Walmart? What baby essentials where you shopping for when you found out you were pregnant?