April 7th – April 13th is National Boys & Girls of America Club Week!  
I am very blessed that I am a stay at home mom now however I was a working mom out of the home for over 11 years and single mom for 10 of those 11 years. More and more families have working parents these days and this means littles need a positive and safe place to be after school and during the summer. I was really happy to discover the is a Boys & Girls Club just north of the city I live in!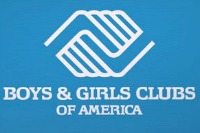 I think the Boys & Girls Club of America (BGCA) is a great program and I am excited to be sharing information about them with you all today. The BGCA has opened its doors to serve millions of boys and girls across the nation. There are more than 4,000 clubs that offer children a safe place to grow. The clubs provide guidance and fun, as well as engaging programs that help kids do well in school, give back to their communities and choose healthy lifestyles.
National Boys and Girls Club Week is a great opportunity to get to know you local BGCA!  I encouraging you to "Open the door. Take the tour."  and ask a fellow neighbor or friend to join you. You can make a fun day of it by getting to know your community. Your local BGCA may have a tour available this week for you to learn more about what they do behind their blue doors. If you can't make it to your local club, you can take a virtual tour.
Other fun things you might find during National Boys and Girls Club Week:
In addition, Clubs across the country will plan fun daily activities for Club members, their parents and the entire neighborhood to enjoy. These events include teen forums, carnivals, health fairs and so much more. Many Boys & Girls Club leadership and service groups (such as Torch and Keystone Clubs for tween and teen Club members) also use the week as a chance to give back to the community by volunteering at homeless shelters or assisted living facilities.
How else can you get involved? Information on how you can help support National Boys & Girls Club Week can be found HERE.
I wrote this review while participating in a campaign for Mom Central Consulting on behalf of the Boys & Girls Clubs of America. I received a promotional item to thank me for taking the time to participate.