Do you remember those emails that used to go around all the time? The ones that were like 20 questions about you and you were supposed to answer them and email to all of your friends to let them learn new things about you?
In today's busy world sometimes we don't get to know people as well as we would like to so Mama on a Green Mission and I thought we would bring back a fun getting to know you weekly feature called Three Things Thursday!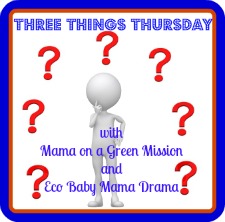 We will post three questions and give up to three answers for each question to let you learn more about us. You see many reviews from us so we want to give you the chance to learn other things about the green gals behind the reviews! 

 Hopefully you learn some fun facts and aren't too shocked!
Favorite Foods: 
Shrimp
Bratwurst (and sauerkraut of course!)
Sweets (chocolate, gummies, candy in general with the exception of gum/peppermints)
Star cross type thing on my back between my shoulder blades (I went in planning on getting a frog on my foot!)
definitely want more but who knows if I will ever get any
SAHM WITH a paycheck still
Lawyer (I was actually in school for this)
Tom Hanks job in BIG
Please feel free to share your answers as well as submit questions too!  I won't guarantee we will answer them all though ;) If you are a blogger please feel free to post your answers and link up with us so we can get to know you better!