Do you remember those emails that used to go around all the time? The ones that were like 20 questions about you and you were supposed to answer them and email to all of your friends to let them learn new things about you?
Well, April and I were talking (texting actually, but isn't that how people talk these days? LOL) and I mentioned a few things about myself and she was shocked! You think you know someone huh?  LOL!  We have been friends for about a year and a half and since I haven't shared as much as I thought (LOL again!)  I started telling her random things about myself and then April mentioned the emails! How funny is it that she actually had one from like 5 years ago still?!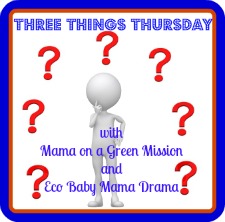 This week April from Mama on a Green Mission and I are starting a new weekly feature: Three Things Thursday. We will post three questions and give up to three answers for each question to let you learn more about us. You see many reviews from us so we wanted to give you the chance to learn other things about the green gals behind the reviews! 

 Hopefully you learn some fun facts and aren't too shocked!
Favorite TV Shows: 
Law and Order (SUV)
Rizzoli & Isles
Criminal Minds (see any pattern? hehehe)
3 in each ear
I also used to have the top cartilage of my ears twice each
my tongue was pierced twice as well but not anymore
Arizona-I'm originally from there and miss my family
I also want to see the ocean someday….
and definitely want to visit April and meet her in person someday!
Please feel free to share your answers as well as submit questions too!  I won't guarantee we will answer them all though ;) If you are a blogger please feel free to post your answers and link up with us so we can get to know you better!