I have been very blessed this year in working with some wonderful people and being able to share with you all some wonderful gadgets and one in particular is the Kolcraft/Contours company.  I was fortunate enough to get familiar with the Cuddle'n Care 2-in-1 Bassinet & Incline Sleeper earlier this year and now my latest favorite mama must have, the Jeep® Wrangler All-Weather Umbrella Stroller.  This is not your everyday umbrella stroller, it is a high quality yet easy to use (Tates can do it!) luxury version of an umbrella stroller.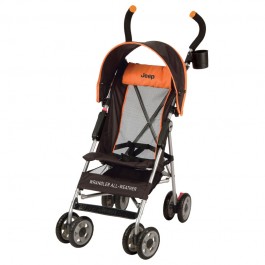 The first thing I noticed about the stroller is how lightweight it is (weighing a little over 9 pounds), even in the box it is super light, Tates dragged the box inside when it was delivered! Tates loves getting boxes as much as his mama so he was anxious to open it up and see what was inside (he always thinks toys are inside for some reason!). Lucky for him (and daddy) the Jeep® Wrangler All-Weather Umbrella Stroller is super easy to assemble and was ready to be used in about 10 minutes.
From here on in it was virtually impossible to get any decent pictures or use the stroller on my own, you see Tates LOVES his new stroller so much and is very protective of it.  He uses the handy cup holder non-stop and absolutely loves to use the sun shade canopy to play hide and seek inside our home 🙂 What do I mean inside you might be thinking?  Well we take it everywhere so it goes back and forth, inside and out and when Tates isn't ridin' inside it he is helpfully pushing his Jeep®.
So you know this stroller is fun and kid friendly for your little helpers, but what does mama love about this gem?
3-point safety restraint belt (quick and easy in and out for MOM but totally toddler proof!)
Comfort-grip foam padded handles for easy maneuvering (they are also positioned to keep arms comfy)
Underseat storage basket (perfect for a small bag or blanket)
Child weight capacity: 40 lbs. (plenty more room for Tates to grow!)
Fully adjustable sun shade to keep baby's delicate skin protected
Seat pad can be rolled up for increased air circulation during warmer weather and rolled down for extra warmth in cooler weather (this is the ultimate in awesomeness! Super easy to rollup/down and my favorite feature, no more worrying about baby being comfortable during any season!)
So you know we love the hot vibe orange color but you can also purchase this fabulous stroller in hype pink too!  Check out the Kolcraft website for all their other great products that are essentials for your family and make perfect gifts this holiday season!

Be sure to stop by and see what Mama on a Green Mission is sharing from Kolcraft, (I personally have one and LOVE it!), she is giving one away too!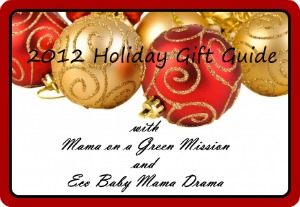 Kolcraft is generously making one lucky reader's holiday season a bit brighter by giving away a Jeep® Wrangler All-Weather Umbrella Stroller!  Enter below and good luck!
Loading Entry-Form…
…