Earth's Best consistently prides itself on the breadth and depth of their product line which ranges from wipes and diapers to jarred foods. Over the past few years, Earth's Best has continued to round out these offerings with an extensive line of pouched products which become increasingly more popular each day! I know we love tossing them in the diaper bag for on the go healthy eating!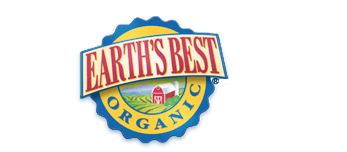 What makes Earth's Best so great is that they offer a variety of pouched products for children in all stages of development, so as kids grow, they can progress into different stages of pouches. Pouches are convenient for both parent and baby, as children can feed themselves (mess free!) while on-the-go if needed. With numerous flavor and texture combinations, you are sure to find something that your little one will enjoy. Below you will find a description of Earth's Best's full line of pouched products!
Meals for Infants, Snacks for Toddlers: 
1st Foods Pouches: Single ingredient pouches for babies 4 months and older. After baby develops a tolerance for infant cereal, it is a perfect time to introduce single ingredient pureed fruits and vegetables

Available in Banana or Pear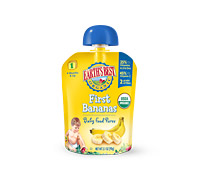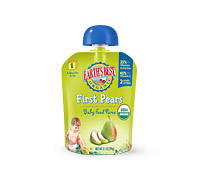 2nd Foods: When your little one is ready for new tastes and textures (6 months and older), Earth's Best Organic Second Infant Puree Pouches are the perfect choices- available in unique varieties and flavor combinations.

Puree flavors include: Orange Banana, Peach Mango, Sweet Potato Apple, Butternut Squash Pear and Banana Blueberry
Fruit & Grain Purees blend organic fruit and hearty whole grains and contain 2 grams of fiber per serving to support healthy digestion

Flavors include: Apple Peach Oatmeal, Apple Plum Kamut, Banana Raspberry Brown Rice & Pear Apricot Barley
Also included in Earth's Best line of second foods:
Greek Yogurt Smoothies:

For babies 6 months and older. These smoothies blends organic fruit and creamy Greek yogurt and are a good source of calcium, 45% daily value of Vitamin C, 20% daily value of Vitamin D, 3 grams of protein

Available in Apple, Banana and Cherry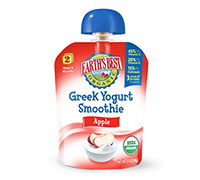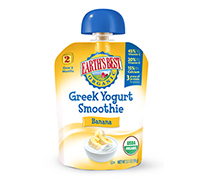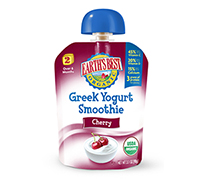 3rd Foods: For babies 9 months and older: 

Feature a more savory blend of organic fruits and vegetables to appeal to growing children, while providing them with the nutrition they need.

Available in Pear Carrot Apricot & Pumpkin Cranberry Apple
Especially for those busy Toddlers that keep us running around:
Sesame Street Fruit Yogurt Smoothies:

Nutritious snack made from organic fruit and real organic yogurt without potentially harmful hormones, antibiotics or pesticides.

Each serving provides 1 full serving of fruit

Available in: Strawberry Banana, Apple Blueberry, Peach Banana, Pear Mango and Mixed Berry

This post was written as part of the Earth's Best Blogger program. I was provided product samples to facilitate this post, and may be eligible for additional blogger rewards. All opinions are 100% my own.