April from
Mama on a Green Mission
and I are here again for another week of our weekly linky devoted to Green Giveaways! Please feel free to link up your green, eco-friendly giveaways and make sure to leave the end date for entrants! This linky will be open until next Monday so feel free to stop by and add any giveaways you post throughout the week!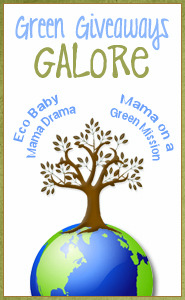 These are our only requirements for adding a giveaway:
It must be family friendly.

It must be a green, eco-friendly, or organic product.

Enter the name of the product and the end date. Also include if open to US only, US/CAN or WW (worldwide).

Please link up only the direct link to your giveaway. Links that direct people to your Facebook and/or Twitter pages will be deleted. We also ask that you do not spam our readers by linking up bad links or links that are not giveaways. Those will also be deleted.
It is not required, but to help spread the word about our giveaway linky we would love it if you could Tweet the following:
#Green #Giveaways Galore! Link up your #ecofriendly #organic giveaways/stop & enter! @ecobabymamadra @greenmissionmom http://bit.ly/ImLagP
You can add as many giveaways as you'd like provided they meet the above guidelines! If you are entering the giveaways, stop back by and let us know what you win and where you won it!
Have fun and best of luck!