When it comes to choosing baby gear most families spend a lot of time making the right decision for themselves however how much time do you spend protecting your investment?  Think about it, how often has something happened to your baby gear and you thought to yourself 'I wish I would have done this or that differently'…..well here is your opportunity to prevent some heartache.  Balboa Baby has a Stroller Liner that is perfect for protecting your investment and adding a bit of personal flair at the same time!
Balboa Baby kindly sent me a stroller liner in the Khaki Berry print, I love how gender neutral it is but also fun and sophisticated too.
Not only is the liner functional by protecting your stroller from potential accidents (food/drink spills, diaper leaks) but it is also adds a nice layer of cushion to increase your little ones comfort.  Speaking of food spills check out the picture on the right, that is the patent pending crumb catcher which neatly tucks in the corners to make sure nothing gets into the impossible to clean areas!
As you can see it is definitely Tates approved (he never wants to look at the camera for me so this was a treat!).  I love that the liner is not only reversible so you really get 2 looks in 1 but also it is super easy to clean, it is machine washable!
You can see it is in my Joovy Zoom 360 jogging stroller but it also fits in virtually every other stroller too with the universal fit it really has fit in every stroller we have tried!  I definitely want to get more so we can have a spare when one is being washed, which print is your favorite?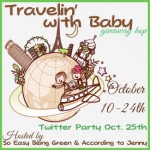 Balboa Baby is generously sponsoring the Travelin' with Baby Giveaway Hop here at Eco Baby Mama Drama!  Hurry over and enter to win one of these wonderful stroller liners!