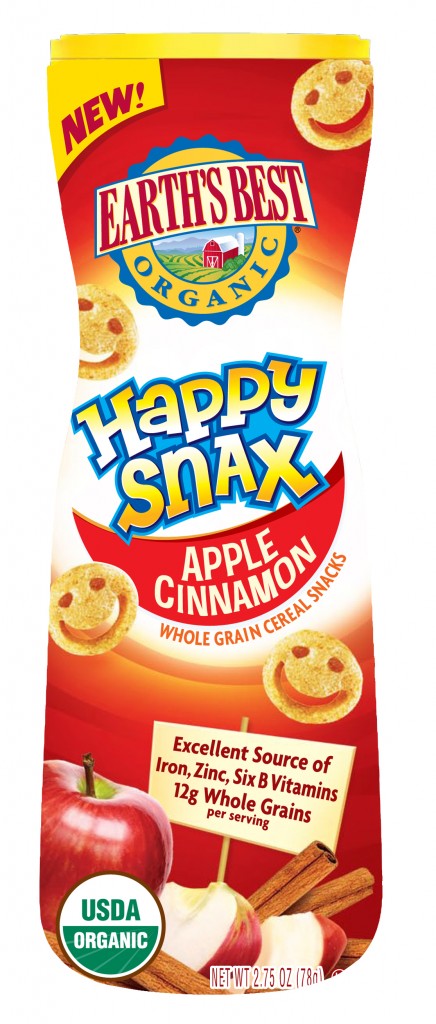 I am excited to announce Earth's Best recently introduced a brand new tasty looking (and super fun looking too!) on-the-go toddler snack, Earth's Best Happy Snax!
New Earth's Best Organic® Happy Snax Whole Grain Cereal Snacks are fun smiley-face shaped snack products available in delicious apple cinnamon and graham varieties for toddlers, don't they sound so yummy? Happy Snax provide the perfect wholesome snack for toddlers, containing 12 grams of whole grains, 2 grams of protein, 2 grams of fiber per serving and 25% of the recommended Daily Value of Vitamin C.
Each canister of Happy Snax is created with a great concern and consideration for the health of its tiny consumers. They are made with organic ingredients grown without potentially harmful pesticides or herbicides and are specially formulated with an excellent source of iron, zinc and six B Vitamins.
As with all Earth's Best® products, Happy Snax Whole Grain Cereal Snacks do not contain any artificial colors, flavors, preservatives nor do they contain Genetically Modified Organisms (GMOs).
With the quickly approaching fall season comes new adventures- driving to fall sporting events (Football baby!), car rides to school (when T-Bone misses the bus!) and play dates with new friends, why not bring along some Earth's Best snak? Earth's Best Organic® Happy Snax Whole Grain Cereal Snacks are sold in 2.6 oz. canisters (Earth's Best Organic™ Pop Snax rice & potato crisps!) that are easily resealable, making them an ideal and fun snack for travel.
So who wants to win some of these tasty looking snax for your on the go schedule this season?  Enter below for your chance!


FTC Disclosure: I am an Earth's Best ambassador and receive products from them, however, my opinion is 100% my own and not influenced in any way. I was not compensated in any other way for this post.