I am super excited to have joined a wonderful team of bloggers in the Go Green Get Fit Challenge. I know what you are thinking, what is that and how do I join right?!  It is really simple to join (more on that in a bit!) but first I want to share what it is all about.  This is a program running through September 9th in which myself along with a select handful of other Green bloggers will be sharing with you and trying to motivate you to Go Green and Get Fit this summer.

Your health and the health of the planet are both important which is why this challenge is a perfect partnership.  I have set some goals for myself not only for this challenge but to continue even after the challenge concludes, I would love for you to set some goals and join me!
Personal Goals:
Become more active DAILY (some kind of exercise everyday!)
Lose 75+ pounds (that is definitely an ongoing goal)
Start taking more vitamins and supplements
Participate in an event (run a 5k maybe?)
Program Goals:
›To Nurture the Women Who Nurture their Families and our World.
›To support women in taking Better Care of Them Selves and give them the tools to make health and wellness a permanent and sustainable priority in their lives
›To Play More, Spend More Time In Nature, Connect More with Friends and Family: Hiking, Exercising, Exploring…and much more!
Some of our focus areas will be:
›  Getting Participants Moving
›  Holistic Nutrition
›  Eco-Friendly Fitness Product Recommendations
›  Outdoor Adventure
›  Sustainability Education
I will be posting my journey to keep you all updated (hopefully there is lots of ups and not so many downs!) as well as posting some great product reviews (maybe giveaways too?) throughout this great adventure.
Want to join us? Follow our team on Facebook, Twitter and Pinterest to read their stories, find motivation, get inspired and join the challenge!  You can also follow our hashtags #GoGreenGetFit and #SustainYourself.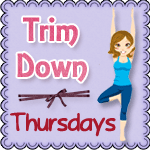 I am super pumped to be sharing my fitness goals and accomplishments with you all, I have really missed Trim Down Thursdays!  Please make sure you drop by and see what Amanda over at Coping with Frugality is up to this week and feel free to link up your health related posts too!