Do you travel much?  Or are you like me and just dream of travelling one day when the kids are all grown up and out on their own?  I have never been on vacation (crazy right?) but that is just sometimes the way the cookie crumbles.  I am really able to dream and plan a dream vacation with the help of a wonderful *newly* re-released book called 1,000 Places to See Before You Die by Patricia Shultz.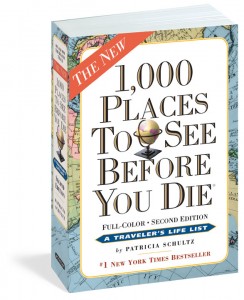 This full color second edition book is chock full of useful information perfect for the world traveler and the wishful planner like myself.  This isn't just a travel guide it is really a useful tool as there is information including websites, phone numbers and the best time to place a visit to your desired location.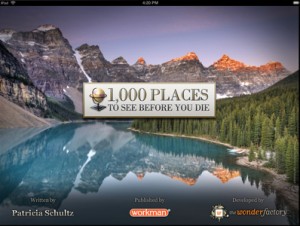 Have friends that want to enjoy your trip but can't come along? No problem, there is an App for that!  With photo and map views you can plan your trip and share pre-vacation excitement with friends and when the actual trip is happening you can use the app as an interactive travel log updating your live photos to show everyone what they are missing with a little 'wish you were here' caption for fun.
Want a little peek into the book and one of the 1,000 places?  Take a moment to view this short video and let me know what is the one place in the world YOU want to visit before you die?

I know my husband AND my dad would both love this book for Father's day so I have to get a few copies, you can purchase this wonderful book; 1,000 Places to See Before You Die, the second edition

 from Amazon.com right now for a rock bottom price and take advantage of FREE super saver shipping!
Win It! 3 yes 3 lucky Eco Baby Mama Drama readers are going to win a copy of this book for themselves or for the traveler in their life!  Head on over to the Celebrating Dad Giveaway to enter to win now!