I have wanted to learn and do yoga for a long long time, recently I started this adventure and was happy to share my newbie experiences with the help of some beginner yoga DVD's I recently reviewed however something was definitely missing and I was always uncomfortable while doing my yoga and sore too.  I chalked it up to being out of shape and needing to stretch more (maybe?) but was way off, thanks to the help of Aurorae Yoga I am now comfortable and safe while exercising.  I know what you are thinking-safe, what do you mean safe while exercising?  Let me just share what I mean….

Not many people know that many yoga mats contain phthalates chemicals which can be absorbed through your skin while exercising and inhaled too (yuck!).  Aurorae Yoga mats are free of phthalates, silicone and latex and are made with eco safe biodegradable materials.  
I was sent one of the beautiful Northern Lights Yoga Mats in the Energy (purple) color, this collection of mats really replicates the beauty of their namesake.  Each mat is truly unique as no two mats are exactly alike however each one is very rich and vibrant in color. 
This is a very thick mat (5mm thick) which is fabulous for supporting your joints and cushioning me, we live in an apartment so our carpet isn't top quality comfortable.  The mat is very durable as baby Tates likes to get it out not just for our yoga sessions but also as his personal play mat, he will invite you to sit on it with him and play games or read books

I am only 5'2″ tall however this mat can accommodate a person more average sized as it is an extra long 72″ x 24″ wide.  Tates and I comfortably do our daily yoga together on it and have ample room not to run into each other.
When I first looked into yoga mats and was researching I read about mats and how 'sticky' they were and was thinking 'why would I want a sticky mat'?   Now I understand, when you sweat you don't want to slip and fall on your face (ouch!) so mats are sticky-this mat has just the perfect amount of stickiness for my liking.  
Sweat, yes sweat happens when you workout and it isn't pretty and it isn't necessarily nice smelling so how do you keep your awesome mat clean and nice?  Organic Yoga Mat Wash of course!  Safe,
 non‐toxic
 and 
biodegradable
 for
 daily 
use (if needed) this wash is easy to use and smells great too-it has a yummy citrus scent.  Simply spray on your mat, let soak in and wipe or air dry to remove dirt and sweat along with disinfecting and keeping your mat bacteria free.  No need to worry about the wash irritating your skin, it is hypoallergenic as well as phthalate free like the mat and biodegradable too.  The handy 4 oz. size makes it easy to take with you if you do your yoga outside your home, you can stash it in your workout bag.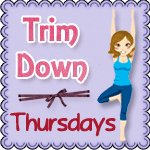 Want your own wonderful Aurorae Yoga mat and wash so you can have a safe and comfortable workout like me?  Check out the Aurorae website for all their wonderful products to help you workout not only safely but in style too!  Huge thanks to the wonderful folks at Aurorae for making my everyday workouts great and allowing me to share their products with you as part of my Trim Down Thursday feature!  Now head on over to see how Amanda from Coping with Frugality is shaping up this week and enter her swimwear giveaway!   Please feel free to linkup your health related posts so we can check them out too!