Whenever I hear about a friend or family member having a baby I immediately start planning in my head what I want to get them for their new little bundle of joy.  I always want to give gifts that I found absolute must have's when I had a newborn or something I love using with a baby in general verses the typical cute baby clothing gifts you see so many times.  Angela, the mama behind Action Baby Carriersdid just that, with some family members expecting she created a wonderful gift for them and an essential in my opinion-a baby carrier.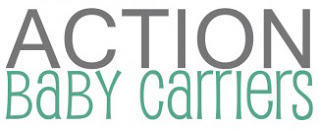 With the help of her math wiz husband she was able to cut her hand made production time down and decided on a whim to post on a babywearing board to see if anyone was interested in purchasing her soft structured carriers, literally overnight she had 35 orders!  She has since perfected her technique even further and is able to supply her wonderful carriers to retailers and moms offering a safe, made in the USA, affordable and comfortable for mom and baby carrier.  I wish I had known about babywearing with my older son but am really happy to have learned about them for using with Tates and hopefully the next one too!
I know lots of you all are babywearing families like mine so I know you are going to be in love with this carrier as much as we are!  There are so many great features that this carrier offers I don't even know where to start!  Voted one of the top 10 Must Have Baby Carriers for 2011 by iVillage.com, Action Baby Carriers are known for being comfortable and stylish and with all the available prints (including organic ones!) you are going to have a hard time choosing your favorite one!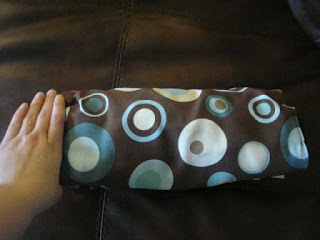 I chose the Robins Egg print, I love that is is gender neutral but still gives me the feel of the polka dots look I love!  I could tell immediately that the carrier felt well made and sturdy and was also super comfy soft for Tates, he actually tried to wear it around!  I got it on him as small as I could but he wouldn't slow down long enough for me to get a picture to share with you all.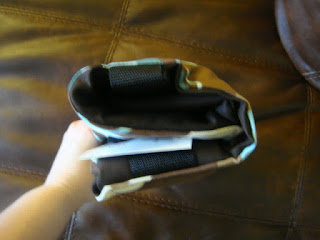 A super awesome feature that every mom can appreciate is how compact the carrier folds/rolls up.  You can easily fit it into pretty much any diaper bag or out of the way in your car trunk so you always have it when you are out and about.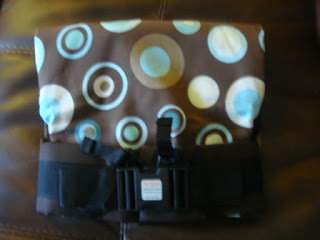 The plastic clips are strong yet easy to use; one handed maneuvering is actually pretty common around here now.   With a 4″ height waistband and 3″ thick shoulder straps that are very easily adjustable for easy on and off whether you are a seasoned babywearing mama or a novice that is nervous about switching from a front carry to a back carry.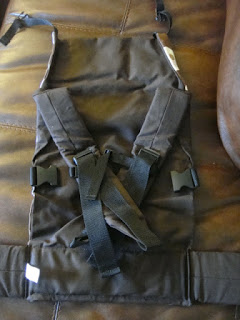 This carrier is a must have for moms with babies of any age as it suits infants from 8 pounds through a large 40 pound toddler.  The carrier is available in standard and plus size, my husband and I would definitely consider ourselves on the heavy side however the standard size carrier more than accommodates us quite comfortably.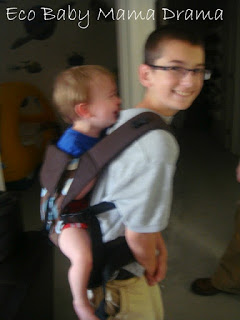 Tates is about 29 pounds and loves being carried by his big brother and his dada and is quite comfortable both ways as you can see!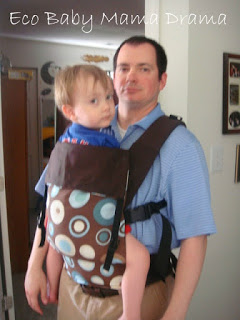 You can purchase an Action Baby Carrier directly from Angela's online store, she currently has several styles on sale (some as low as $60!) and is offering Eco Baby Mama Drama readers an exclusive $20 discount code off any regular priced carrier!  Use code
ecobaby
now until the 18th of May to get an unbelievable deal on a fabulous carrier!