Summer Infant knows that having a baby is the best time of your life and through their innovative, safe and high quality gear from bath tubs to travel systems they have your family covered for just about everything you might need for your little bundle of joy.  Backed by a team of pediatricians making sure their products keep your baby safe, Summer Infant is continuously rolling out the latest and greatest essentials for young infants up through toddlers and beyond.  This is a company that offers products I have come to depend on as a parent. We were simply overjoyed when offered the chance to review the Carter's Animal Parade Comfort 'n Care Playard & Changer.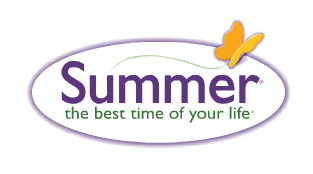 Features/Benefits:
Removable activity jumper featuring sounds and lights for baby in comfort and safety inside playard 

Parent assist tray helps organize baby essentials 

Fold over changer stows away during non use 

Fold over, full size bassinet 

Music module helps soothe newborn

Compact fold, wheels and travel bag for portability

Full size newborn bassinet music, nature and womb sounds
I really love the gender neutral yet very stylish prints and animal theme used for this playard, I really think you can use it for a girl or a boy. The material is very thick and durable, you can tell it is made to last.
The playard was very easy to put together, simply click the sides up and push the center down into place and put the mattress on top!  Super fast and ready for baby to play or nap in and with a weight limit of up to 30 pounds you will get lots of use from it, Tates is a big baby weighing in at 28+ pounds and he enjoys using it everyday.  With the two wheels (located on the left legs in the below photo) it is easy to move the playard from room to room with ease-I can even do it one handed while holding Tates!
Having seen many playards in my many years of being a parent this is the first time I have seen the truly unique feature that one has included, a removable activity jumper with sounds and lights!  How fun is this for your little one, and it is 2 baby gear items in one for parents on the go.  Every parent can use this and appreciate a product that has multiple uses to keep their little one entertained.
The maximum weight on the jumper seat is 25 pounds so as much as it breaks my heart Tates is slightly over and we can't let him use it but maybe baby #3?  The seat offers great support for a growing little one and has flexible straps to support baby bouncing up and down along with entertaining toys and soft friendly animal faced friends to keep baby all smiles!
Another great feature that I am looking forward to using on baby #3 is the bassinet.  This is the perfect place for newborns (up to 15 pounds) to sleep and have them close by for the every 2 hour feedings around the clock.  Tates slept in one at the foot of our bed for a long time as we didn't have a crib actually.
Changing from the playard to the bassinet and vice verse is super easy by slipping on the bassinet top and laying the mattress in.  There is also a wonderful attachment (included) used to soothe infants with nature and womb sounds as well as regular music.
No need to buy a changing table, with this wonderful playard you can change your infant or babies (up to 25 pounds) on the included super sturdy changer.  This changer screws into place offering a steady changing surface for mom to work.  With the amount of diapers kids go through (especially newborns!) the waterproof material the changer is made of is great for easy cleanups!
The changer folds out of your way when not in use for full access to your playard and bassinet.
Every parent changing a diaper in the middle of the night in the dark can appreciate the wonderful parent assist tray to help organize all baby changing essentials and even a few distraction toys for baby and the easy clip on feature allows for it to hang on the outside of the Carter's Animal Parade Comfort n' Care Playard and Changer making this a definite must have baby gear item.  You can see we have 3 one sized pocket diapers inside and there is plenty of room for more, the 2 large storage areas have full sized diaper changing extras and lotion for baby and there is ample space for lots more!

Buy It: You can purchase your very own Summer Infant Carter's Animal Parade Comfort n' Care Playard and Changer from Amazon.com.  You can also connect with Summer Infant on Facebook and Twitter to keep up with them on their latest products and promotions!