Cristina is the creative mama behind Wild Mountain Mommies (WMM) cloth diapers and is definitely one of my favorites!  I was a tester for her a couple of years ago when she first started making diapers and before I was a blogger.  I absolutely adored our tester diaper and when I contacted Cristina about our event she not only remembered me but also recreated our tester diaper with the same print we had before Tates got sick.  I loved our WMM one sized AI2 diaper so much before so when I got the new and improved WMM AI2 in the mail and saw it was different I was a bit nervous however I was pleasantly surprised with the adjustments Cristina had made to her wonderful diapers!
Cristina makes both sized and one sized pockets, fitteds and AI2 diapers and covers.  She offers so many options to customize your babies needs and your preferences that every customer is sure to be satisfied.  She is willing to work with you on whatever you would like for your little ones tush and doesn't charge an arm and a leg to make your diaper dreams a reality.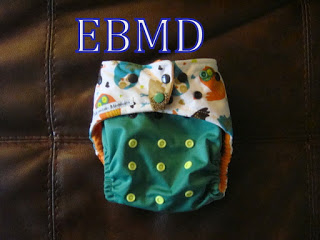 Cristina made us a one sized AI2 which consists of a half print half coordinating solid PUL outer layer.  We prefer snap closure and there is a snap down rise with three settings.  Hip snaps and a second snap at the farthest part of the wing ensure no drooping and crossover tabs are great for smaller babies.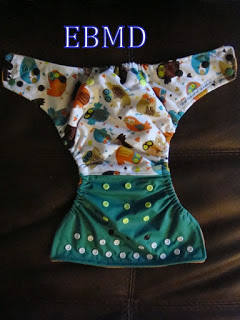 Super soft orange cotton velour inner lining along with a snap in soaker (hidden snaps) consisting of 5 super absorbent layers of hemp fleece with a stay dry microchamois topper.  The soaker reaches dries very quickly because of the split design.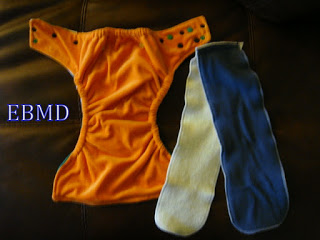 Although the soaker takes 7-10 washings to reach its max absorbency I usually only prep wash 3-4 times before use and haven't had any leaks and Tates wears this diaper during the daytime and during naps and has even fallen asleep in it overnight before.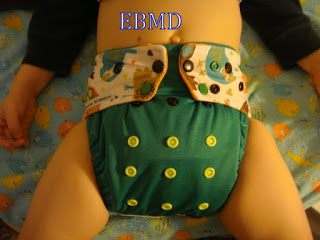 The rise snaps are fully undone however the wings are so stretchy and generous that Tates has plenty of room to stay in this diaper for quite awhile.  He is on the last couple of snaps on a lot of his diapers and as you can see this one has several left to go.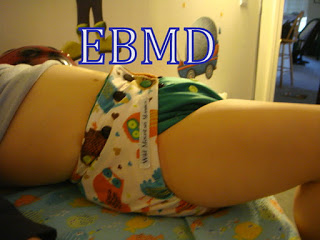 This is one of the trimmest diapers, it fits under all of Tates clothing.  
The gentle elastic never leaves a mark on Tates thighs and contains messes very well.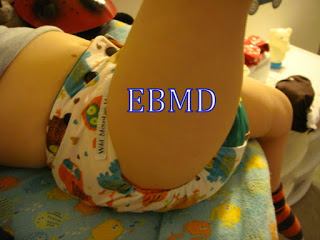 As you can see Tates is in motion here, doing the 'Diaper Dance'~next time I will try to get it on video for you guys!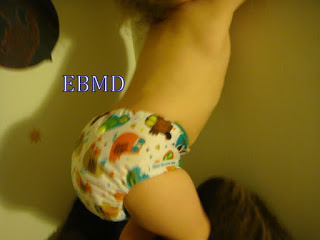 Buy It:
You can design your very own dream diaper or choose from the freshly stocked Wild Mountain Mommies online store today!  Hurry over before everything sells out and you have to wait until the next stocking!