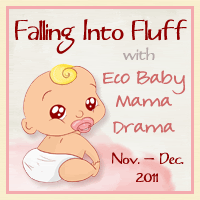 In our journey back into cloth we have had the pleasure of working with so many wonderful people that have been so generous in sponsoring our adventure and the wonderful giveaways too.  This is the case with the folks over at Sweetbottoms Baby Boutique.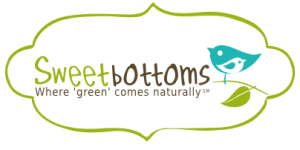 Sweetbottoms is dedicated to providing outstanding customer service and support while helping you achieve your natural parenting goals.  They can help you become closer to mother earth with their wide selection of green toys, cloth diapers or all natural skin care products for the entire family, Sweetbottoms Baby Boutique has you covered.  Beth, the owner, provides one on one help to find you exactly what you are looking for.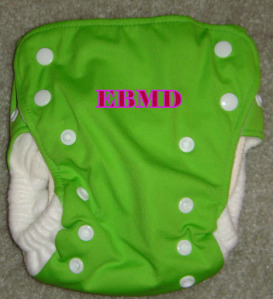 Beth sent me a BabyKicks 3g Bumboo Pocket diaper in sunset (orange).  I mentioned in an earlier review that I had won some cloth diapers in A Blogtastic Extravaganza package and a BabyKicks 3g Bumboo was also included in this package so I was able to get a good feel for the diapers having two in our rotation.  I was super excited to try these diaper for several reasons; it is one sized, snap closure (side snap closure to help prevent wing droop) and comes with an all natural hemp insert which I love.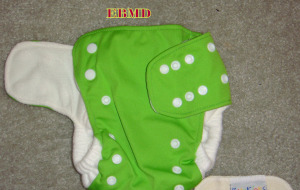 Although this diaper is one sized it seems to be on the smaller side of the one sized diaper spectrum.  Tates is already on the last snap and although the rise snaps are fully opened the rise is very low on Tates belly.  I do think this would be a good fit for a very small baby as the rise snaps make this diaper very small when snapped down all the way.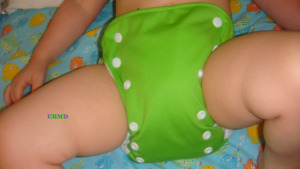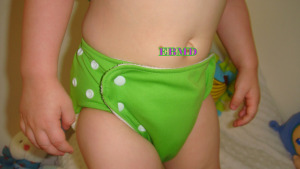 I do love that the leg gussets are made of fleece not PUL allowing for air to flow throughout to prevent rashes.  They can definitely contain a big mess however since they are fleece the chance for wetness to get out is greater.  Although the fleece is very stretchy you can see the gussets are a bit snug on Tates chunky thighs.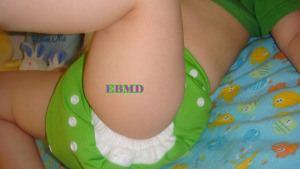 The included one size JoeyBunz insert is super absorbent and made of 8 thirsty layers of hemp/organic cotton and is only 1/8 of an inch thick making the diaper ultra trim however the insert is somewhat odd in my opinion as it is a bit too long for the diaper.  As you can see from the picture below the insert is suggested to be folded no matter what rise setting you use which is kinda odd to me, I would think they might just make the insert slightly shorter?  I actually use the insert unfolded all the way and it is just the slightest bit too long.  I think BabyKicks is developing a new one sized insert for these pockets however I am not positive on this.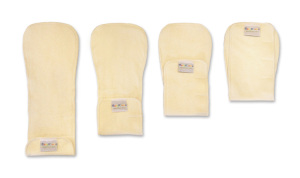 The pocket opening on this diaper is in the front which I typically prefer a back opening as having a baby boy the front of the diaper is almost always wet however the tag is pretty large and allows you to avoid dealing with a wet insert.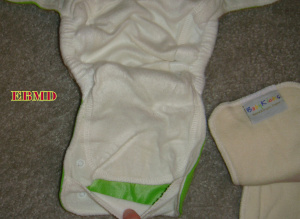 The inner lining of this diaper is made of  30% Certified Organic Cotton and 70% Rayon made from Bamboo.  I prefer to hang dry my pocket diapers to allow for them to last longer however if I do that with this diaper is becomes very crunchy inside so I would recommend drying this diaper in your machine to keep the inner lining soft.


Buy It:
You can purchase your very own BabyKicks 3g Bumboo Pocket diaper or any of the many fabulous diapers Sweetbottoms Baby Boutique has stocked in their fabulous online store, check out their 12 Deals of Christmas promotion going on right now!


Win It:
Beth has offered one lucky reader to win their very own BabyKicks 3g Bumboo pocket in your choice of in stock color!
/*{literal}<![CDATA[*/ window.RAFLIN = window.RAFLIN || {}; window.RAFLIN['d03e6d98'] = {id: 'MmRlMGQzOTJlODA1NjZkYjhmYmYyZDgyMDgxMTJhOjU5'}; var url='//d12vno17mo87cx.cloudfront.net/static/js/raflcptr/build/raflcptr.min.js', head=(document.getElementsByTagName('head')[0] || document.getElementsByTagName('body')[0]); (function(d,n,h){if(!!d.getElementById(n))return;var j=d.createElement('script');j.id=n;j.type='text/javascript';j.async=true;j.src=url;h.appendChild(j);}(document,'rsoijs',head)); /*]]>{/literal}*/
/*{literal}{/literal}*/
a Rafflecopter giveaway
<a href="http://rafl.es/enable-js">You need javascript enabled to see this giveaway</a>.