Here at the Eco Baby Mama Drama house we have been quite fortunate with the products we have been given the opportunity to use or own but I was beside myself when I was told I would be test driving a
2012 Kia Sorento
for a week and be provided with a gift card to cover the gas!  My husband and oldest didn't believe me, I had to show them the email and then they were still skeptical until it was delivered to my door!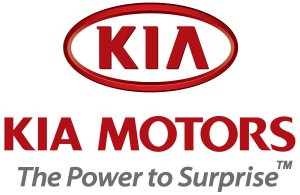 We currently own an SUV that has a third row of seats so my standards were set already as I love my car but I pride myself on having an open mind so I was ready for the change!  I immediately fell in love with the beautiful Bright Silver colored crossover vehicle.  One of the first things I noticed was that it is closer to the ground than your typical SUV.  I am only 5'2″ tall so I have to climb in and jump out of my own vehicle however with the Sorento I can simply turn and step out, my legs are even with the ground.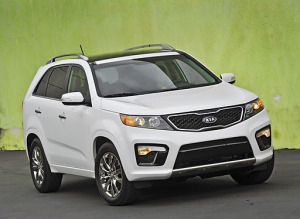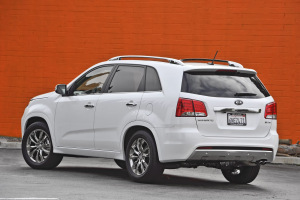 When you get into the drivers seat the heated leather hugs your body and provides fabulous lumbar support.  The dual climate control makes the front driver and passenger both comfortable and with the optional air conditioned seats and heated second row of seats everyone can ride in comfort.  The attractive wood grain accents are a very nice touch and make the car look and feel luxurious. The dashboard is a sleek design with rounded easy to read gauges.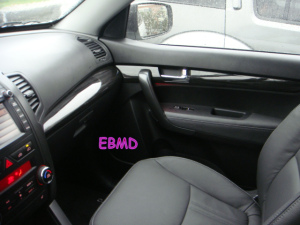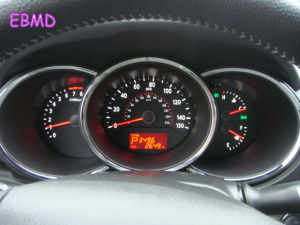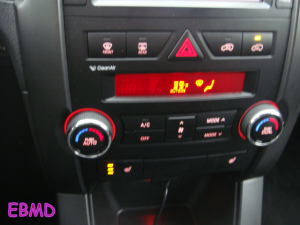 This vehicle came with the coolest sound system this mama has ever seen!  Touch screen radio, TOUCH SCREEN RADIO.  Not only can you easily maneuver around and decide what you would like to listen to but an Ipod/Iphone jack comes standard so you can easily use your own mix of music.  Also in the radio department there is a navigation system that is super user friendly.  You can easily type in your destination and you are on your way.  We played with this feature to locate restaurants and gas stations that were closest to us which is a fabulous feature if you are travelling with this car.  You can also sync your cell phone to the car in about 10 seconds, I did it while my husband ran into the gas station and when he returned I called my mom, it is super quick and very user friendly.  There is a backup camera that is really cool and it even beeps when you get close to the curb!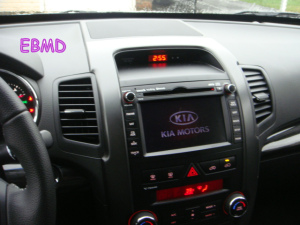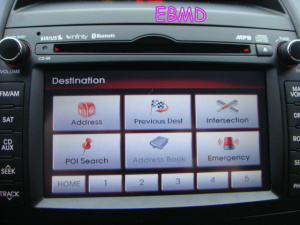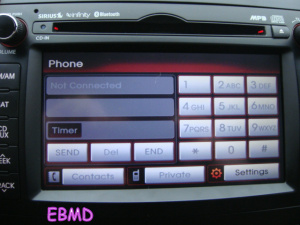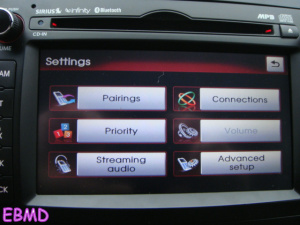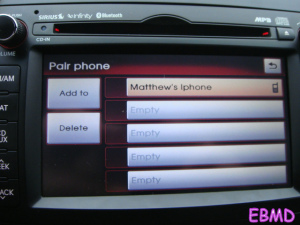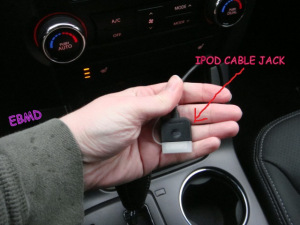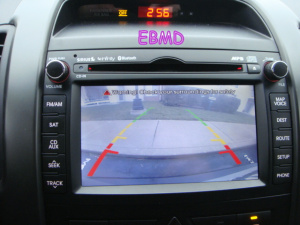 We were fortunate enough to have the Sorento over the Thanksgiving holiday and we used it to travel to see my husband's family which is a three hour drive.  We were gone for 5 days so you can imagine the amount of stuff we had to bring with us and having a small child we had extra equipment to take along (playard/portable high chair/toys). We had no problem whatsoever fitting everything!  The car actually packed up quite nicely and we had plenty of room left over so there was no overflow on the second row of seats or on the floor in front of Tates car seat.  The picture below is everything we unpacked from the car right when we returned from our trip. With an awesome 'Eco' gas feature this car boast more than the stated 28 highway miles per gallon.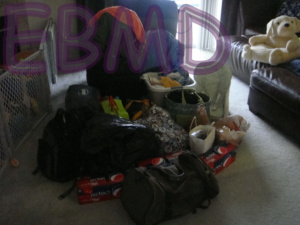 The last thing I want to mention and this is my absolute favorite part of the car is how easy it was for me to install the car seat.  It took me less than five minutes to get Tates car seat installed securely to the LATCH system and with the amount of recline the second row of seats allows for Tates had so much room for his legs!  I was ready to buy the car right then and there.  SERIOUSLY.  When it was time to give the Kia back I was sad to put the car seat back in my car and remember I said I love my car.
My husband is just as in love as I am and has brought it up several times that we trade in my car for a new Kia Sorento and before this there were only a few makes of cars he would even consider!  So it is true, Kia Motors does have the power to surprise.