We searched forever for a sippy cup for Tates and tried everything; soft spout, hard spout, handles and no handles and finally one day let him try to drink out of a cup I was using that had a straw since he was so determined to copying mommy.  To my shock he had no issues with it and got it on the first try.  That was it, the hunt was over and we went straight to the straw at a very early age of about 15 months.  I was ecstatic when given the opportunity to try out the Foogo Vacuum Insulated 10 oz Food Jar and Blue Foogo Vacuum Insulated Leak-Proof Straw Bottle.  Thermos offers some great product solutions that are reusable and easy to use.


Tates is very independent and loves to walk around with snacks all day long when we are home and with both boys busy schedules it is nice to have these for when we are outside of the house.  Both containers are perfect size for little hands to hold; the bottle features a contoured body.  At the same time holding a good amount of snacks.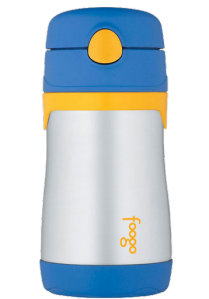 Tates loves using his big boy straw cup and was immediately fascinated by the easy to use push button lid that covers the pop up straw when not in use.  The bottle holds 10 ounces and is double wall vacuum insulation for maximum cold temperature retention which really works, we left it in the car on a warm day while visiting my sister and when we headed home later that night Tates drink was still cold.  The containers boast a 10 hour window to keep food and beverages cold and fresh inhibiting dangerous bacteria growth.  Although it is leak proof when closed if left open and tipped on it's side it does drip out of the straw quite a bit however with the development of better cup handling skills this won't be an issue.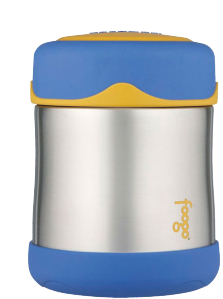 Made of stainless steel on both the exterior and interior makes the containers sweat proof so no water rings are an issue and having non-slip, scratch resistant bases, keeping cool to the touch with hot foods is a bonus.  The ergonomically designed lid with rubber grip on the food jar makes it easy to open and close without causing little ones frustration.
Both products are BPA free and dishwasher safe however I prefer to hand wash all our kids plastics and other items so I simply take the bottle and food jar apart and soak them in hot soapy water and let air dry.  The straw comes out of the bottle and is replaced easily.
Another great feature of the bottle is that it is part of the Phases interchangeable lid system (step 3).  This will save parents money by allowing you to reuse the bottles and various cups offered for different stages and you can purchase the lids as your child grows.  
I know I mentioned earlier that Tates drinks stay cold for a long time but wanted to point out how important this is by stating the containers boast a 10 hour window to keep food and beverages cold and fresh inhibiting dangerous bacteria growth.  With Tates recent deadly bacterial infection this was a majorly awesome feature to me.
You can purchase both products and find more great items as well from the Thermos website