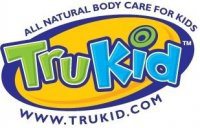 When trying to make changes in my families life towards being more healthy one of the first things I think of is not only what goes in our body (food) but what goes on our bodies.  Not just clothing but skincare products, your skin is the largest organ and I think people overlook it too often. Have you ever taken a moment to look at your daily lotion, body wash or sunscreens ingredients?  There are so many ingredients that I can't even begin to pronounce let alone know what they are. That is pretty scary in my opinion. That is one of the coolest parts of TruKid Natural and Organic Kids Products, you can see their entire ingredients list right on their website and exact descriptions of what those ingredients are and what the uses for each ingredient is.

TruKid products are 
BPA 
and
Phthalate
free!
 We make safe products that families can feel good about; our certified organic and natural ingredients are always 
SLS, paraben, 1-4 Dioxane and Gluten-free!
Jennifer Adams Bunker is mother of 6 and creator of TruKid, and was hesitant to use the chemical filled, unhealthy and 'yucky' smelling products on the market that were available s
o she set out to make something that was. Using only natural ingredients, and essential oils to make scents that children love, she created an easy system, made up of products accompanied with fun songs and poems, that kids would want to use themselves. The rest as they say, was TruKid™ histor
y.
Jennifer, who by the way personally corresponded with me from the start; so generously sent me 
Happy Face and Body Lotion
Helping Hand Wash
Sunny Days SPF 30+ Sunscreen
Sunny Days SPF 30+ Sunscreen Stick
Cool Conditioner and
Silly Shampoo!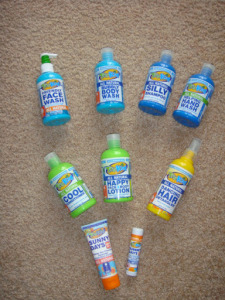 The bottles are easy to handle  (my 15 month old likes to play with them in the tub!) but last quite awhile, we have been using them for over 3 months now and they are still very full.  I also love that you can lock/unlock the pumps with one hand so you don't have to take your hand off baby in the tub if you forgot to unlock the silly shampoo before you have a squirmy baby that isn't wanting to get washed up!  Although my boys don't have long hair I used the Dancing Detangler on my mid back length super thick and wavy hair and it worked fabulously!  And all of the products have a wonderful light citrus scent that lasts but isn't overwhelming. I really love the Learning System,  TruKid has created on the bottles~through symbols and colors showing kids which body part to use that particular bottle on (face/body/hair) and there is even an "Apply with a parents help" symbol!
I highly recommend all these products to everyone!
You can purchase these affordable products in single bottles or convenient 3 packs to save even more at the TruKid Online Store.
**This is not a paid post. The opinions of this product are strictly that of my own and completely unbiased! **Thank you to the sponsor for the chance to review this product and for giving one lucky fan a prize!