Doesn't it always seem like you or your children get sick after typical doctors office hours? There is nothing worse than a Saturday morning cough or that Sunday afternoon fever that you aren't sure if your child should wait to be seen by a medical professional. I always feel like going to the Emergency Room is extreme which is why I love having the option to go to my CVS MinuteClinic.
Wether you or your children are experiencing a sore throat or even just wanting to update your vaccinations (flu, pneumonia, pertussis, and hepatitis to name a few) the CVS MinuteClinic is your one stop quick diagnosis and treatment shop for many ailments. I love being able to get myself and children diagnosed and when needed our medications filled conveniently and quickly so we can start feeling better.
I was pleasantly surprised at our last visit when we discovered that MinuteClinic also offers some really great health and wellness programs that I am definitely going to be taking advantage of this year. I'm on a mission to change my overall health which includes losing some weight. CVS MinuteClinic now offers smoking cessation and weight loss programs to help you (and me!) get healthy and stay healthy!
Find more information at: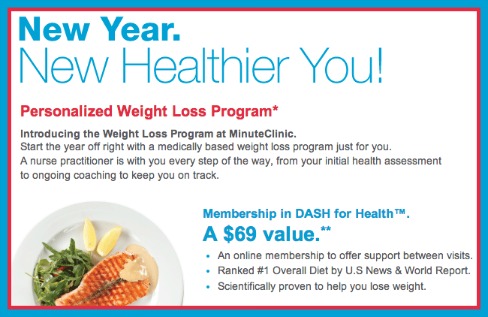 MinuteClinic helps make weight loss possible ~ even if you're busy
It's a personalized program, providing ongoing coaching and medical supervision. It's based on the popular DASH diet, DASH for Health, ranked #1 Overall Diet by U.S. News & World Report for three years in a row.
The program is easy to follow, focuses on healthy eating and is clinically proven to promote weight loss. It also has the added benefit of lowering blood pressure and cholesterol.
With your initial assessment, you'll receive membership to DASH for HealthTM, a great online resource to help you stay on course in- between visits to MinuteClinic.
The Weight Loss Program is covered by most insurance plans. MinuteClinic recommends that you contact your insurance company prior to visiting MinuteClinic to verify coverage as well as any copays, co-insurance or deductibles.

The MinuteClinic is a walk-in clinic located in select CVS/pharmacy stores in 28 states and DC. They are conveniently open 7 days a week with evening hours and you don't need to make an appointment. Most insurance plans are also accepted.
Stay connected with CVS MinuteClinic on Twitter for lots of great health and wellness tips!