Teaching our children is an ongoing process, their minds are like sponges and crave information. Keeping things fresh, creative and fun in lessons we teach and activities we participate in with our kids can sometimes become challenging. Thanks to CWIST parents and teachers together can encourage children and keep the learning process fun and rewarding for everyone.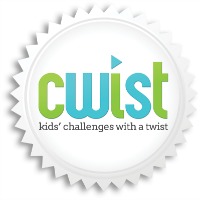 What exactly is CWIST? It's an online community designed to help children learn through challenges (also known as CWIST'S) set by parents (or teachers) and when the tasks are complete the kids earn parent approved rewards. Teaching children the value of earning things they want in a super fun way while also teaching a variety of important life lessons is a win-win!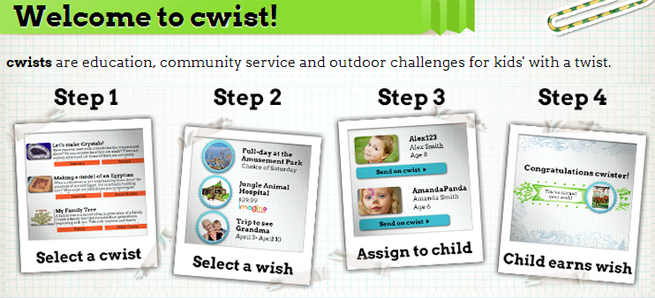 How do you CWIST? It's easy! Signup for a free account to get started and get moving! I researched and setup our account ahead of time then sat down with the boys and let them explore with me and determine what CWIST'S we assigned to each of them. We then chose their rewards based on the difficulty/length of each challenge and started CWIST-ing!
Once the boys completed a task and saw how easy and fun it was they began requesting their own challenges and came up with their own creative rewards too. Tates is currently working on a CWIST in which he learns to chew with his mouth closed and will earn a golfing set and T-Bone has completed a food guide pyramid collage and earned several awesome rolls of Duct tape to add to his collection. The possibilities really are endless once you get started!
With the upcoming holidays the generous folks at CWIST and their partners have launched an amazing campaign called Kids CWIST For Kids. This is a really unique way to help your children focus on the spirit of giving and learn the value of helping those in need.

Your family can really make a child in need's holidays a bit brighter by participating in simple learning activities! CWIST is donating $2,000 in toys to children in need and we are elated to be participating! Please check out this wonderful twist on challenging your children and encourage your friends to join the cause with you. Together we can all make a difference this holiday season in our own kids lives and the lives of some children in need.