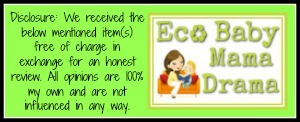 If you are a cloth diapering family that loves versatility the TushMate cloth diaper system is definitely something you should check out. With 5 different ways to use this unique cloth diaper you really can customize each use to fit your needs as well as the needs of your baby and if you have more than one child in cloth diapers you can easily customize your TushMate to each child for each use.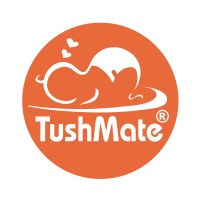 The one sized system is adjustable via snap down rise offering 4 sizes to grow with your babies and a 2 row of front snap closure (also available in hook & loop closure). Tates is 33 (ish) pounds and is on the largest setting rise and has a couple snaps left on the closure. Even with 2 inserts the fit on Tates is very trim.

Currently TushMate is available in 3 vibrant colors (orange, blue and chocolate). With 2 sizes (regular and large) organic (hemp/organic cotton or organic cotton) inserts and stay dry liners this diaper system really is perfect for heavy wetters and natural fiber loving moms like myself ;). I also really like that the tag is located on the outside back of the cover so as not to irritate babies delicate skin. 

So how do they work? Well there are 5 (YES FIVE) ways you can use your TushMate cloth diaper system!
1. Universal Cover - Choose a prefold, flat or fitted diaper and use the cover as the waterproof barrier to protect babies clothes from wetness. This is a very economical option as you can reuse the cover for several diaper changes.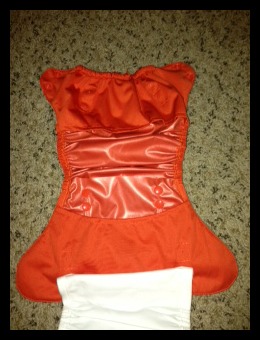 2. Hybrid - Choose a disposable pad and tuck it under the front and back flaps, if your pad has adhesive you can simply snap in the TushMate stay dry liner to stick your pads too. This is a great option for traveling with cloth diapers or if your baby is on medication and you are unable to use some of your other cloth diapers.
3. Pocket - Snap in the Tush Mate stay dry liner and snap in TushMate inserts or tuck in inserts of your choice from another manufacturer. We are big fans of pockets here and love to be able to stuff several inserts inside for our heavy wetter.
4. All In Two (AI2) - Snap a TushMate insert into the cover or place an insert of your choice in and you are set, easy even for the novice cloth diaper user.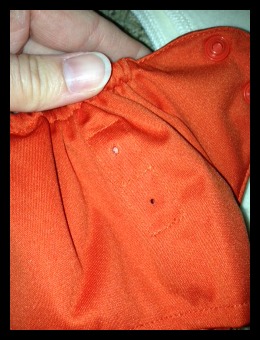 5. All In Three (AI3) - Snap in a regular size TushMate insert into the back set of snaps, snap a large TushMate insert into the front set of snaps (you now have three thirsty layers of absorbency) and snap the stay dry liner into the remaining front and back snaps. This is a great option for heavy wetters or overnight use.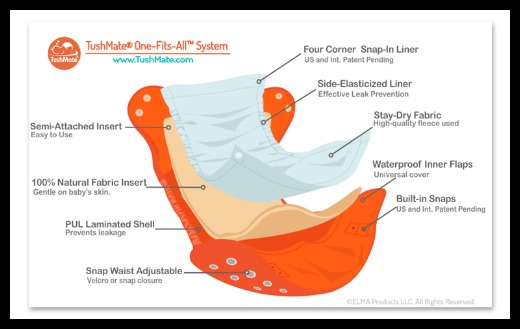 With the endless options and all natural fiber inserts available from TushMate this makes a really versatile and economical solution for cloth diapering. You can purchase TushMate directly from their website where they offer some great package deals!

Want another opinion on TushMate? Head on over to see what Julie from A Year with Mom & Dad thinks about the TushMate cloth diaper system!