This is a sponsored post written by me on behalf of Lifescript.com. Being a parent is hard work no matter what age your child(ren) are. Parenting a child with a behavioral disorder is a whole different situation. When we recently received the diagnosis that T-Bone was among the millions of children and teens with ADHD we weren't sure what our next steps should be. I immediately started researching online about ADHD in children, what the symptoms of ADHD are and treatment options. The Lifescript.com Childhood ADHD Health Center has so much information I was relieved to be able to get all the information I was initially looking for plus lots of additional support I didn't even realize I needed. Lifescript is an online service specifically for women that offers resources, tips, quizzes and tools to equip us to lead healthier lives.

You can search for childhood ADHD information anywhere online however do you really know how accurate the information is? When dealing with my families health I want to know I am getting the best most reliable factual information and not just thoughts and opinions. With Lifescript I know the helpful tips and articles are written by leading physicians, nutritionists and health experts reassuring me the information is dependable.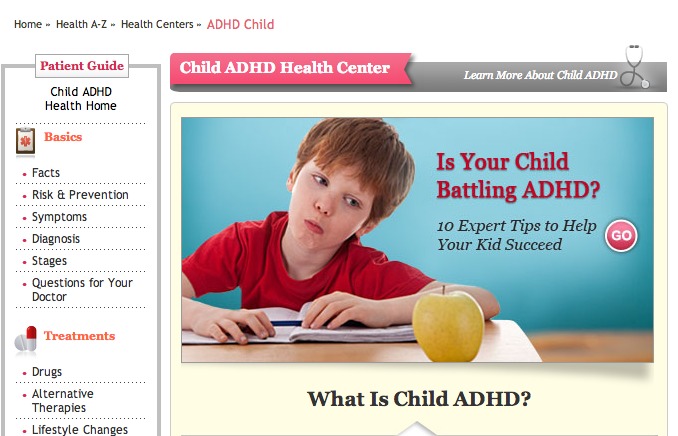 After researching the Lifescript.com Childhood ADHD Health Center I really felt that I knew so much more about our teens disorder and felt equipped to help him. I had no idea that a healthy diet and moderate exercise can help control ADHD symptoms and that having a daily routine including family time can help your child with ADHD be more successful. The information on the Lifescript website is a whole approach from diagnosis to treatment and healthy lifestyle choices to manage your symptoms making it the online tool for your families health needs.
Want to find more posts relating to Childhood ADHD? Be sure you check out these Lifescript articles:
Lifescript's Childhood ADHD Health Center features tips, quizzes, recipes and articles – all by professional health writers, experts and physicians – covering how to help your child succeed in school, advice for getting through the morning routine, how girls' ADHD differs from boys' and more. Please visit the Lifescript Health Center on Childhood ADHD for more information.
And to check out this free website, click here!
This is a sponsored post by me on behalf of Lifescript.com.