I have a confession to make, I am not a crafty or creative mom. I just don't have that talent unfortunately but lucky for me Manhattan Toy has me covered with their new imagine i CAN series. With 28 arts & craft, DIY, role-play, travel sized games and puppet kits for endless playing options. I'm grateful to Manhattan Toys for providing these wonderful activities for our family (free of charge) in exchange for us sharing our honest experiences about them.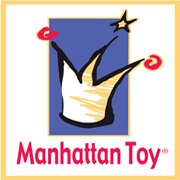 With a wide range of fun topics like knitting, pet rocks, castles, caterpillars and fairies, there's truly something for everyone, and at $5 to $20 each, your budget is safe for family time activities. Nearly all come in a tin for easy storage and travel perfect for keeping everything together, the handled ones could even be used as a lunchbox according to Tates ;).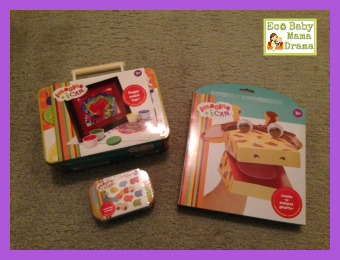 Tates is over the moon about the Caterpillar Connect game (Ages 3+, $6.00). He caught on very quickly to using the easy "roll the dice" style play. This game allows him to practice identifying the colors on the die, matching it to the caterpillar body parts knowing whose turn it is and being patient waiting for his turn. We have played the game every day since receiving it and I love the little tin box so we can take it everywhere. Check out the longest ever caterpillar he made :).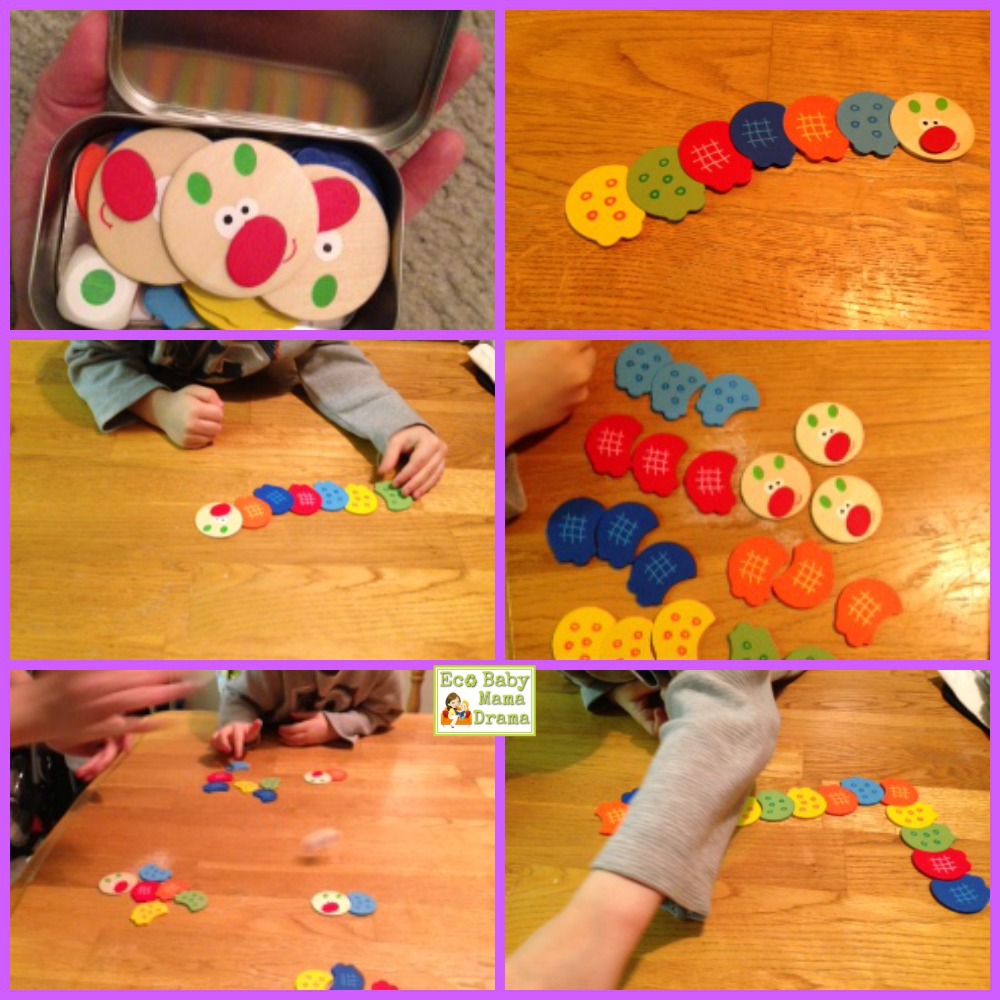 I must admit this was one of the first times I can remember Tates being so excited about painting. With it being a traditionally messy activity I really shy away from doing it often but not anymore! The Finger Paint Fun kit ($20.00) comes complete with 4 washable paint containers (red, green, blue & yellow), 3 plastic stampers and 3 plastic scrapers all in a fun and perfect for travel metal tin with handle. The stampers and scrapers are perfectly sized for little hands and brightly colored to encourage kids creative side. Tates loves the hands on fun that painting offers and I love this kit for offering a new and not so messy way to achieve unique textures, patterns and fun shapes in his creations.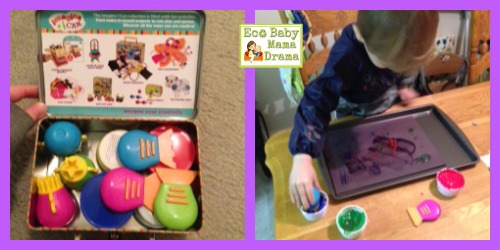 The Create-A-Puppet Giraffe kit ($6.00) was a bit more work than expected. The kit includes pre-cut puppet pieces, yarn, pre-cut double-sided tape pieces and an illustrated instruction sheet however I think the directions would be easier to follow with some words included. My husband had to put the puppet together and it took him quite awhile and he is pretty handy with directions, I'm not sure if a child could do the assembly on their own. Since Tates new Melman friend was created he hasn't stopped running around 'chomping' with him! He has a wonderful time playing make believe that he is Melman eating everything! For being made of thick paper the puppet has held up to tough toddler play surprisingly well.

With Manhattan Toy's new line engaging and encouraging the world of hands on learning for children ages 3 to 8+ is within reach for every family no matter how crafty mama is and how small your budget may be. You can check out kids playing with all the kits from Manhattan Toy in their YouTube video and find your favorites for your own family!
Please share with me, which kit is your favorite? What activities do you love to do with your kids? I would love to hear what crafts and games your family enjoys!
WIN IT: One reader gets to pick any ONE of the 28 items in this toy line!! (ARV: $5-20). ~WINNER~ Lisa W