As an all natural and organic loving mama I am always trying to find foods, clothing and skin care items that are safe for my family and try to share anything I come across. I am only one girl though and can only do so much right? I am really excited to see more and more celebrities and influential people making more natural choices and helping get the word out and am thrilled to have come across a new organic skin care collection that is not only endorsed but created by Suzanne Somers!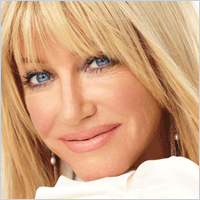 Her skin is absolutely flawless, she must be doing something right!  Suzanne Somers 4-Piece Organics Skincare Collection includes:
Exfoliating Peach Cleanser - 5 oz
Everyday Cleanser - 4 oz
Calming Toner - 4 oz
BioActive Moisturizer - 1 oz
Made with natural botanical extracts, enzymes, skin-nurturing anti-oxidants, organic fruits and vegetables this easy 4 step system enhances your beauty regimen with formulas that use only pure,
organic ingredients
with no animal testing or synthetic fragrances and are chemical free!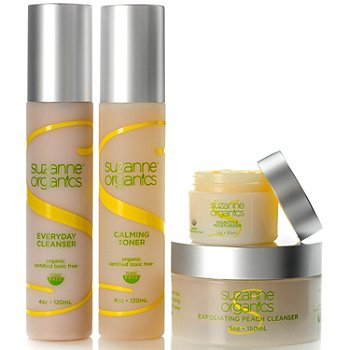 Some specifics on each of the individual products and a brief highlight of some of the fabulous benefits that they offer:
Everyday Cleanser: 
Gentle Cleanse - Removes dirt, oil, and pollutants from the skin. After it cleanses, it reinvests with antioxidants to nurture the skin. First it takes out the dirt, then restores with nutrients
Good for all skin types - mild enough for the most sensitive skin. Thorough cleansing for normal and oily skin types
Loaded with antioxidants including Brazilian Pepper Tree, and an antioxidant that helps skin
Gently removes make-up, mascara, and lipstick (no need for an additional makeup remover!)
Made from food ingredients!
Exfoliating Peach Cleanser: 
2-Step Cleansing Process in One Cleanser:
-Step 1: Let the remain on skin for 2-5 minutes as gentle beta-hydroxy acids from organic fruit and green tea loosen the layers of dead skin cells.
-Step 2: Then, massage in small circular motion and allow natural exfoliants of polished peach and apricot grains to lift away those dead cells and reveal soft, radiant skin.
Retains moistures while helping unclog pores with a deep cleansing action
Skin will have a radiant glow from removal of dead skin cells and support of hydration for healthy new skin
Fragrant - fresh peach essence derived from natural peach
You only need to use this 2-4 times per week as you feel your skin requires
Calming Toner:
Alcohol free - many toners are made of alcohol which dries the skin. These toners can also irritate the skin
Soothes and cools your skin. Imagine the cleanser as exercise for your face
Massaging and cleaning is a somewhat rigorous process. The toner is like the cool drink of water after your exercise
Contains olive leaf and willow herbs - these organic ingredients moisturize, therefore creating a liquid highway
Japanese honeysuckle is an all natural preservative
Soothing botanicals - loaded with soothing herbs and botanicals to rejuvenate skin throughout the day
Rejuvenating - use throughout the day for a quick rejuvenating treatment
BioActive Moisturizer: 
Superfood treatment - loaded with natural botanical active ingredients, like CoQ10, argan oil, and sea buckthorn berry, for youthful, ageless skin
Beech bud extract - supports the skin cells. This organic extract moisturizes the skin and assists in the look of wrinkle reduction by supporting the skin
CoQ10 - a vital nutrient. This is a supplement Suzanne Somers takes internally, and it is added it to this moisturizer to also help the skin externally
Sea buckthorn berry - this rare plant contains essential fatty acids, Omega 3,6,7 and 9. Our skin loves these essential fatty acids, and to find all of these essential fatty acids in one plant is remarkable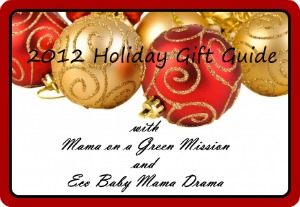 With the holidays and gift giving times quickly approaching this beautiful skin car set makes a wonderful gift for any woman in your life that wants healthy skin, who doesn't love certified toxic free ingredients that are also very reasonably priced?  I know these would make a great gift for me