As 2012 comes to a close (Yikes! Where did the time go?) it is time to get your groove on with our last group giveaway of the year sponsored by Irresistibly Green!  I've worked with Irresistibly Green before and since become a huge fan and follower of her store and blog!
Celebrate the coming new year with a blue dot disco prize package!  This giveaway is for a blue disco dot package with a Wahmies Deluxe one size pocket diaper and two matching wet bags.  I haven't personally tried this brand so please feel free to share what you love about it in a comment for me!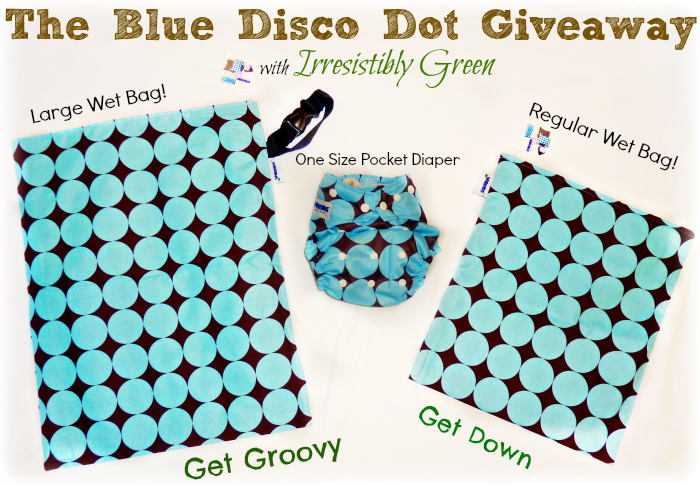 Thanks to the Irresistibly Green website for some info on Wahmies:
Wahmies Deluxe with Hydro Assure is a one size pocket diaper with a bamboo viscose insert and a bamboo lining on the interior of the diaper.
Regular size wet bag measures approximately 13″ x 15″, and will hold up to 6-8 diapers, depending on the size.
Large wet bag measures approximately 16″ x 20″ and can hold an entire days's worth of cloth diapers. The large bag also has a durable handle with a clip for easy carrying or hanging on a bar or door handle.
This funky matching set is a great addition to any stash!
Don't forget there is still time to snag some great deals before the holidays! Free shipping over $20!
*Bloggers are not responsible for prize fulfillment. Prize ships directly from Irresistible Green.
*This giveaway is open until New Year's Eve.
*Open to U.S./CAN. Must be 18 or older. No purchase necessary. Void where prohibited. Giveaway Ends 12/31/2012.