So how are you all liking the Treetop Baby Holiday Extravaganza so far?  I hope it is as fun for you all as it has been for me, but wait the good times and giveaways aren't done just yet!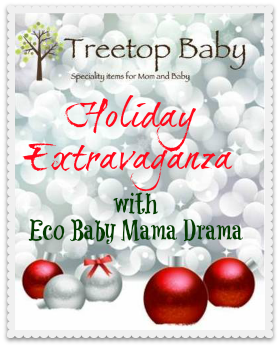 I am really excited to share with you all the new rewards program called Treetop Baby Dollars!  The program is super simple and rewards you for purchases you were already making!  You get 1 point for each dollar purchased and during November you receive 20% in extra points!  For example if you purchase a dozen prefolds you will receive 20 Treetop Baby dollars!  If you are wanting one of the wonderful carriers from Treetop Baby this is the time to treat yourself and get some great points too!  I know everyone already knows there is FREE shipping on all USA orders for November so take advantage of it now!

So you wanna know what is up for grabs for the #6 giveaway huh?  I know you do!  It's fluffy!  AND another diaper I haven't tried yet so I definitely want to hear from the winner what they love about it!  It's a Thirsties Duo Diaper in warm stripes print AND an extra insert!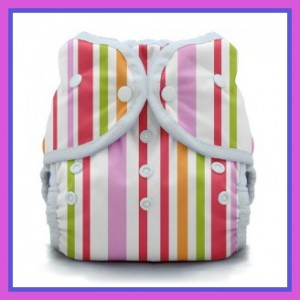 Here is a bit more info on this diaper:
Features
A two-piece diapering system combining an absorbent insert and waterproof sleeve diaper
Seven thirsty absorbent layers
Microfleece liner provides wetness protection and stain resistance
Grows with your baby so you only need two sizes from birth to potty!
Easy stuffing and one-step cleaning
Pliable, breathable ultra-comfortable waterproof exterior
I have a heavy wetter and love Thirsties products so this is definitely a diaper I am wanting to try!  And the extra insert would make a great nighttime solution!
Enter below and good luck!  Please remember: All giveaways are open to US and Canadian residents and all entries will be verified.  Treetop Baby will ship prizes directly to winners and yes you may win more than one giveaway (giveaway #5 is still open) so make sure you keep entering! ~WINNER~ Amy Bailey