After starting to cloth diaper with her first child at only two weeks old, Melissa was immediately addicted to cloth.  Expanding her cloth knowledge past her starter prefolds and finding the love for one sized pocket diapers.  Melissa founded Lovely Pocket Diapers to offer an affordable alternative to the more expensive options she found on the market.

Melissa sent us one of the new & improved Rave pocket diapers for review in the fuzzy Giraffe print.  I mentioned before Tates is a huge giraffe fan so he loves the soft minky print and so do I.  What else is there to love about these affordable diapers?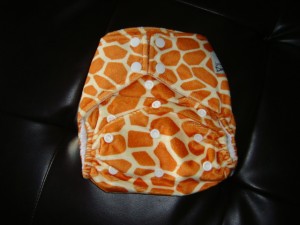 Double row waist snap closure, we love this (since Tates can get velcro open!) option for our active runner, no diaper sagging here!
Double pocket opening, whether you prefer a front or back opening everyone is covered with this feature.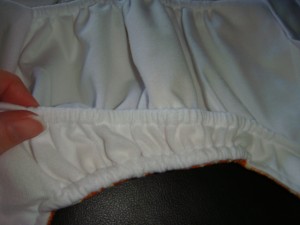 Double leg gussets to ensure whatever your baby can dish out stays IN this diaper.  There is also a waterproof front flap in case baby has any messes come up the front of the diaper.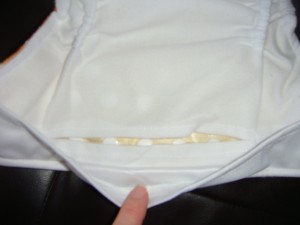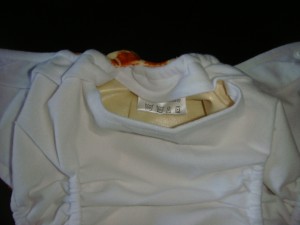 Gentle elastics all around hug babies back and legs perfectly without leaving any irritating marks.  The back elastic is very wide, covering babies back very generously so no back blowouts!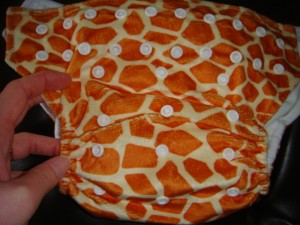 With four snap down rise settings this diaper is adjustable for several sizes offering a longer use time verses sized diapers.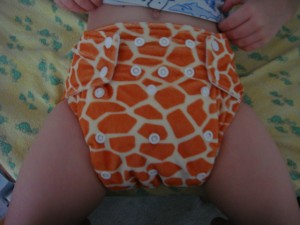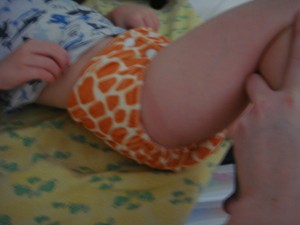 Inner lining of suede cloth so baby feels dry at all times and a super soft luxurious feeling minky outer for extra comfort!  And speaking of comfort, let's talk fit.  This diaper fits great!  Tates is on the fully open rise snap setting but still has plenty of snaps left for growing until he is ready to use the big boy potty!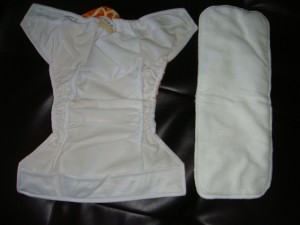 Each Rave diaper comes with a triple layer microfiber insert which offers a trim fit however with Tates being a heavy wetter I would prefer to have two inserts or choose one of the other insert options available from Lovely Pocket Diapers.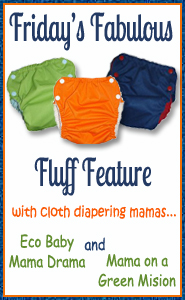 Lovely Pocket Diapers is this weeks Friday's Fabulous Fluff Feature!  Make sure you check out another viewpoint of these diapers by visiting Mama on a Green Mission and seeing what she thinks!
Purchase: Lovely Pocket Diapers are available online and have a wonderful Warranty/Trail policy you should check out.
Win: One lucky reader (US/Canada only) is going to win their choice of color/print in the new Rave Lovely Pocket Diaper!  enter below, good luck!
Loading Entry-Form…
…