I will be the first to tell you I don't like shoes or socks, well I take that back I prefer to go barefooted and am very picky about shoes and socks therefore making for a tough sell on all things for feet.  As most of you already know I have 2 boys and they are a hard sell on footwear too, when I saw the pediped Flex Sahara sandals I knew they would be perfect for us Tates.  I just need them in a size big enough for T-Bone now lol!
Besides the fact that they are adorable looking and orange (all the boys favorite color!) these babies are hard to resist with all these great features:
All natural rubber sole
Protective toe caps
Velcro closure for a personalized fit and easy on and off
Machine washable and water safe
Made from eco-friendly materials
Approved by the American Podiatric Medical Assoc. for promotig healthy foot development
Rugged yet lightweight
Stylish and brightly colored, fashionable for the little one in your life

During the manufacturing process there are no solvents used which results in a reduced amount of carbon dioxide emissions and less use of water and energy, that alone makes me want to buy them!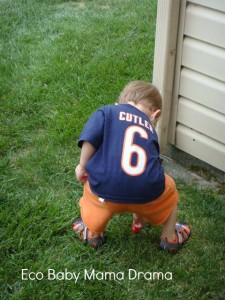 Although they are slightly too big for Tates (the Flex line runs big) he is quite comfortable in them, he really loves them actually as they are the shoes he chooses on a daily basis.  Having a little boy run around outside in some shoes is the ultimate test in quality and fit and these pass the test with flying colors, they still look new and this mama is a fan for life!
Buy them: You can purchase your own pediped shoes for your baby all the way up to kids sizes directly from the online store and have them delivered to your doorstep.  There is even a Rewards program for customers!
I definitely plan on getting some new winter shoes for Tates from pediped, which ones do you think I should get, or which style do you love for your kids?