When I first heard about cloth diapers and figured out sizing I immediately chose the one sized option for a few reasons…..#1 because I could 'sell' the idea of reusing them on another baby to my husband (saving even more money in the long run) and #2 I just assumed one sized diapers were the 'smartest' option.  I never really understood why people chose sized diapers until after I tried AppleCheeks for the first time.  These wonderful sized cloth diapers are fluffy heaven.

The two sized envelope (pocket) style cloth diaper system is available in snap closure only (my preference) and the snaps are super strong.  The sizing guidelines are Size 1 fits from 7 – 20lbs, and Size 2 fits from 18 – 40lbs and there is also waist extenders available making both sizes get some extra use on your little ones tush.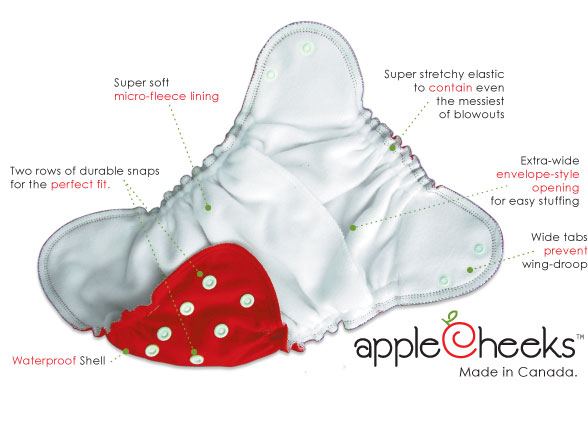 This envelope cover is definitely one of my favorites, I adore the wide tabs that really make wing droop a non issue and the ultra soft micro fleece lining is not only stay dry against babies skin but also cleans up very easily.  The covers also dry quickly without having to use your dryer so they are eco-friendly on top of the whole cloth diapers are already eco-friendly fact.
We were sent a Lemon Zest size 2 envelope cover and one of the all new one-size stay-dry micro terry inserts.  The insert has a white side (stay-dry micro fleece side) and a white with red stitching and label side (absorbent micro terry side).  The cool thing about this insert is that you can use it two ways!  Seen above with the micro fleece side up against babies skin or below you can tuck it in the wide envelope pocket with the micro terry side up.  The label is clearly marked so you never make a mistake and place the micro terry against babies skin.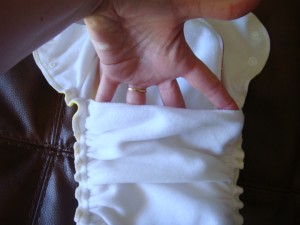 The gently encased elastic on the belly is another great feature, no matter what kind of blowout your baby tries to dish out this diaper can contain it.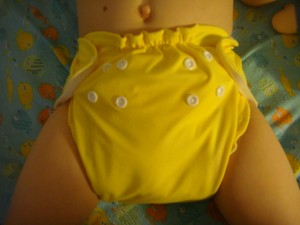 The leg elastic (as well as the back elastic) is very gentle too and hugs Tates chunky thighs and never leaves any red marks.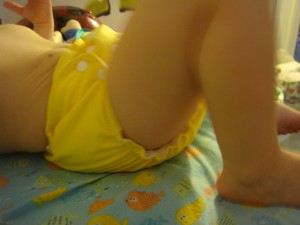 You can see from both of these photos that this diaper is very trim.  Tates has worn it through some very long naps and it is very absorbent, never had a leak!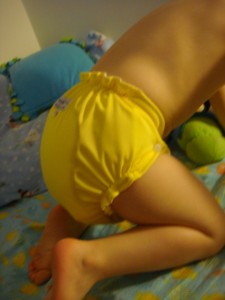 I am really excited to see how a size 1 cover fits on a small baby, by the time we discovered AppleCheeks we were in a size 2.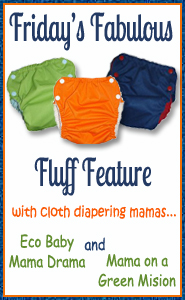 AppleCheeks is this weeks Friday's Fabulous Fluff Feature!  You can purchase an entire stash of the beautiful colors that are available at retailers in the US and Canada!  Offering not only the new one size micro terry insert like I reviewed but also offering bamboo options as well!