When I was pregnant with Tates I had an endless list of things to buy, I hadn't had a baby in 11+ years so I literally had nothing in the way of supplies for a newborn.  I immediately started a gift registry that ended up being a super long wish list of baby goodies.  I didn't really add many blankets to the list, I had forgotten how many blankets a baby goes through!  I was fortunate enough to be given a bunch of blankets from a friend that had a baby almost exactly 1 year prior to me so we were pretty set however these were regular receiving blankets that weren't the softest and were wearing thin.
Neither T-Bone or Tates have ever really been 'woobie' type of kiddos (is it bad that I kinda always wanted my kids to have a woobie type thing?) so Tates doesn't have anything he can't live without however he does definitely have his favorites which most recently he has included his itti bitti minkee blankee to the list.  Right when I opened the mail and Tates saw the colorful Carnivale print he grabbed it and said "Ooooohhhhh".  He hugged it and rubbed it on my face and said it again!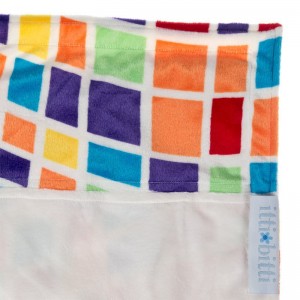 This minkee blankee is seriously the softest thing I have ever felt and very generously sized at 39″ x 29.5 and is perfect for toddler beds, car seats and strollers.  We have a leather couch so Tates really loves laying his down so he doesn't get 'Brrr' (cold) when he is wearing shorts!  Both sides of the blankee are minkee soft and offer a large solid color panel on one side with a printed top trim and the opposite on the other side.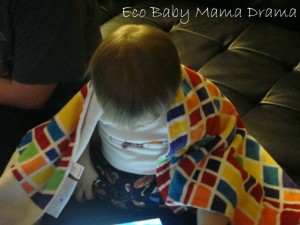 Tates really loves dragging his blankee all over and the more it gets washed the softer is seems to get!  This is definitely a must have blankee for every child, in fact I wouldn't mind having an adult sized one honestly!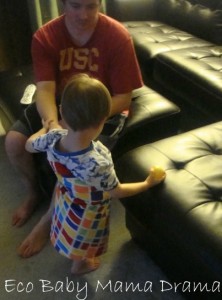 Tates really loves cuddling with his blankee after napping, when he is playing birds on the iPad and just playing around with his Dad-the blankee is always around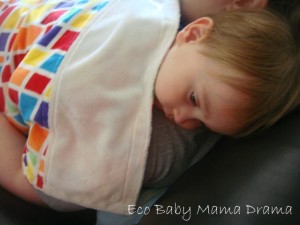 Buy It: You can purchase your own itti bitti minkee blankee from the EcoDistribution USA website, available in 4 colors/prints and 4 limited edition colors/prints!  What is your favorite print?