With a name like Fluff Planet I automatically start thinking about all the cloth diapers and accessories I could dream of then I find out there is even more!  Offering eco-friendly and green options for the whole family you might just end up buying one of everything at Fluff Planet!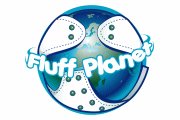 Jessa and Kim are the mama's behind this shop and specialize in their own brand of pocket and fitted cloth diapers although they do sell other brands as well.  I was sent a custom one sized Fluff Planet diaper for review.  Isn't this the most perfect print for a cloth diaper?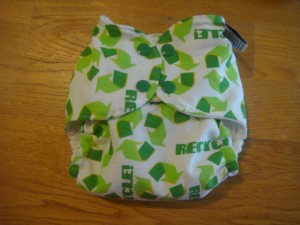 This diaper has snap closure and 3 snap down settings for a total of 4 size options.  Although the snap closure doesn't have a crossover setting the diaper does offer a unique arc style snap setup and on the smallest setting appears to be pretty tiny.  Having only boys we don't own any dolls to display the small setting on unfortunately.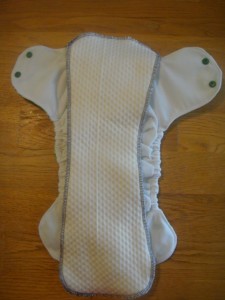 I was sent the Zorb II insert for testing.  This insert consists of Zorb II sandwiched between organic cotton that has quilted pockets that soak up liquid super fast.  The insert dries super fast and is fluffy soft.  With a suede cloth inner lining baby always feels dry and a super adorable PUL outer baby is always stylin'!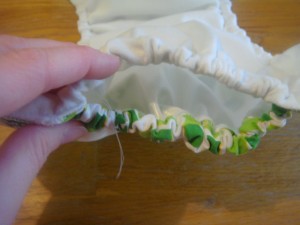 The pocket opening is in the back (my fave!) and is perfectly sized for the insert to fit snugly and not move.  The back elastic (and leg elastic actually) is super, hugs perfectly to keep in blowouts (Tates really knows if a tester diaper is on I swear!) but leaves no red marks.
The arc styling of the diaper offers a higher rise verses other one sized diapers however you can see Tates is already close to the end of the closure settings.  Since this picture he has gotten a bit taller and slimmer so he will definitely be able to use the diaper for awhile still.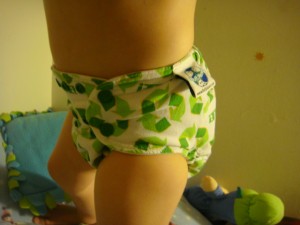 You can see this diaper is ULTRA trim!  The Zorb II insert definitely makes a huge difference in how trim the diaper is and the wide wings on the diaper along with double snap closure makes wing droop no issue at all!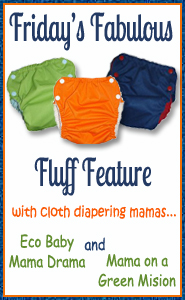 Fluff Planet is this weeks Friday's Fabulous Fluff Feature!  Make sure you stop by to see what April from Mama on a Green Mission is talking about this week!  You can purchase a custom diaper from Fluff Planet along with some rash cream and detergent from the online store!