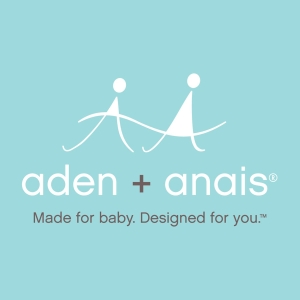 Please tell me you have heard of aden + anais before?  If you haven't heard of this wonderful company you are really missing out!  This company (started by a mom!) offers some of the softest, breathable and natural baby linens I have ever had the pleasure of using.  From crib sheets to towel & wash cloth sets this company has your baby covered in comfort.  We were lucky enough to receive a selection of their wonderful products to review.
When it comes to offering a super absorbent baby bib, hands down aden + anais is #1 and the 2012 Cribsie Awards offer proof to that claim.  Not only are the bibs thirsty enough to catch drool and any food that may miss babies mouth but they are generously sized to make sure that babies clothes stay clean which seems to be *almost* impossible in this household at least.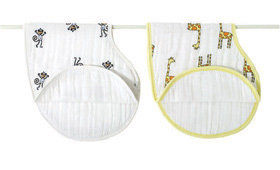 The jungle jam burpy bibs® 2 pack is an absolute hit in my book and not just at mealtime, these bibs are perfect for drooly toddlers too.  Whether cutting a tooth or sleeping on mama with his mouth open the burpy cloth function is greatly appreciated by me!  Made of 4 layers of soft cotton muslin the bibs get softer with each washing and anyone with a baby will tell you that bibs get washed A LOT.  The bibs are the largest I have seen when it comes to a quick snap on and off bib and when using as a 'burpy rag' mom or dad's shoulder will be more than covered.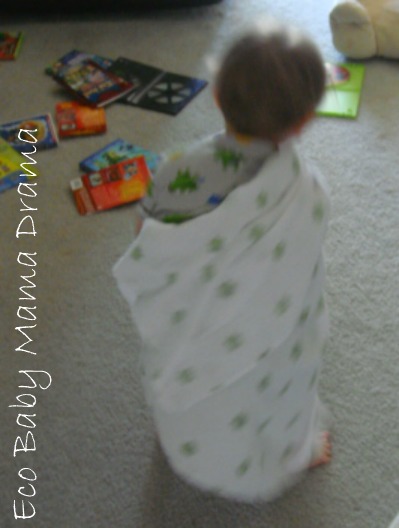 We were also lucky enough to receive the jungle jam swaddle 4 pack, I bet you I know what you are thinking, she has a 2 year old why does she need swaddle blankets?  Well they aren't just for babies!  Tates simply loves them!  Drags them all over the house and uses them as capes and acts like he is flying, he also loves to cuddle with them.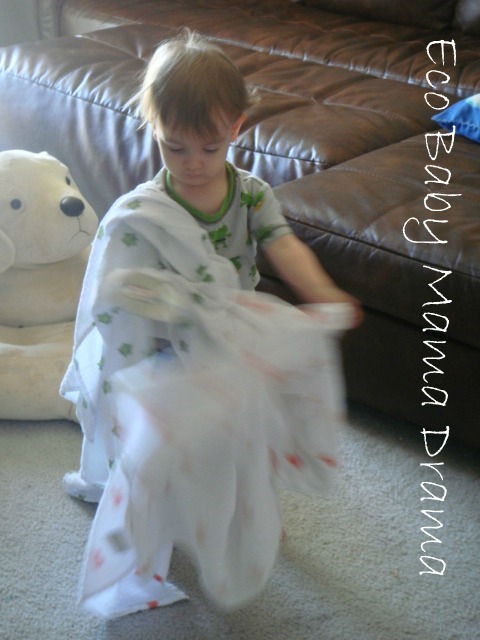 They are so soft and lightweight that he just loves being surrounded by them, we had to go out and buy more so he could have extras!  with so many adorable prints available you will have a hard time choosing which to buy!
Measuring 47″x47″ each and made of super soft breathable muslin they are designed to help baby regulate their own body temperature and perfect for toddler too, Tates always has at least 2 with him and the others are all over the house so they are accessible.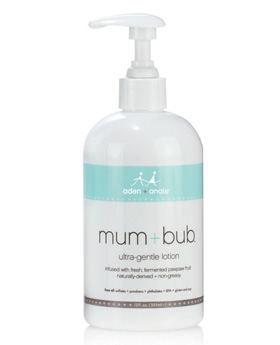 Lastly we were sent one of the mum + bub™ ultra-gentle lotion from the skin care line of aden + anais line.  I didn't even realize they has skin care, let alone that it was designed by a leading NY dermatologist.  Free of all harmful chemicals such as phytoestrogen, parabens, petroleum oils, phthalates, gluten and soy and is lightly scented so it doesn't overwhelm babies senses.
This is my husband's favorite lotion to use on Tates with the easy pump dispenser and non-greasy application on a squirmy boy goes fast

These are just a few of the absolutely amazing products that aden + anais offers to comfort your little ones of all ages, the entire line of products are available for purchase on their website along with more product information.
One lucky Eco Baby Mama Drama reader is going to win their very own full size 12 ounce mum + bub™ ultra-gentle lotion!