My name is Bri and I am a bag-aholic. Wait!  I am NOT ready to give up on my guilty pleasure!  I can't quit!  I am always interested in bags, from reusable shopping bags to little bags for holding all the stuff inside my handbags I LOVE bags!  I have found a wonderful place to feed my habit and with Scout by Bungalownot only is every possible bag size and shape available with the click of my mouse but also available in great colorful prints and solids to suit whatever mood or outfit I might want to match!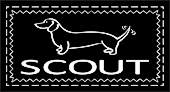 I received the Weekender travel bag in Sweetpea Stripe and immediately fell in love with it.   I had an upcoming trip to see my in-laws and this was the perfect time to see what my new bag could handle.  When I go see my husband's family we stay for at least 2 days and sometimes up to 4 and I never know what we are going to end up doing; nice dinner out, just hanging around with family or an afternoon at the local fair so I have to pack for just about anything.  And every mom knows (and will tell you) when you are traveling with a child no matter what age you need to over pack because you will always end up needing more than you thought.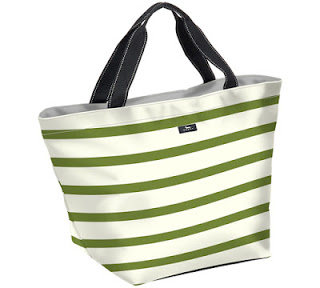 So I set out to pack for a 3 day trip and here is my bag fully packed, Tates out lovely model can show you really how large this bag is, he is 27 months old and as you can see he could probably fit inside pretty easily.  The bag measurements are 25in.(W) x17in.(H) x13in.(D), want to know what all I got in there don't ya?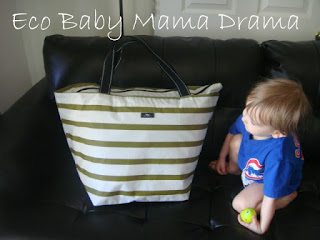 I had the following in the bag, not folded neatly mind you just pulled out of drawers and off hangers and just laid in so I know if I would have folded neatly I would have gotten more in there no problem
3 pairs of pants (jeans and cotton casual pants)
3 pairs of undies
3 pairs of socks
3 long sleeve shirts
extra bra
3 pairs of pj's (3 pants/3 long sleeve shirts/3 tank tops)
5 long sleeve shirts for Tates
5 pairs of pants for Tates
5 pairs of socks for Tates
5 pairs of long sleeve pj's for Tates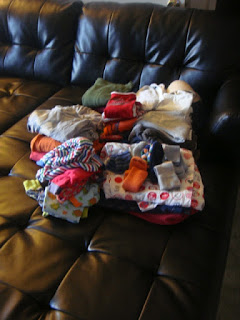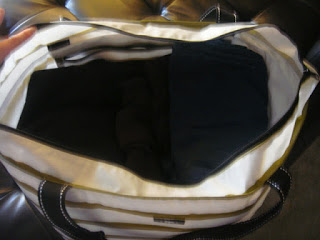 Above everything is neatly folded in the weekender and below everything is tossed in unfolded…you can see there is more than enough room for more than just a weekend trip!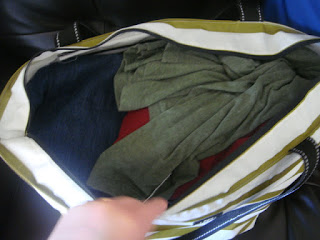 This bag is made of 100% cotton twill and folds up flat which is perfect for if you are traveling and might be bringing home more than you left home with such as Christmas gifts from in-laws!  The nag has a wipe clean surface so no worries about a spill or even rain as it is water resistant and has a strong zip top closure to keep all your valuables safe.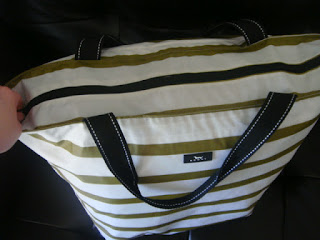 I simply cannot will not travel without my weekender bag, it is my go to bag no matter how long my trip will be.  Want your own weekender bag or an entire matching set of travel bags?  Head on over to the Scout by Bungalow website and pick out bags for every trip you may ever take!  You can purchase directly from the online storeand have your bags delivered to your doorstep.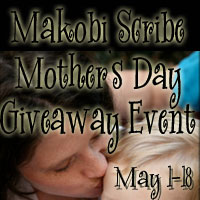 I know most mom's won't use this size of bag on a daily basis and the wonderful people at Scout want to offer one lucky mom an Original Deano tote which is a bit smaller and better for daily use.  You can win the Original Deano tote in your choice of in stock print(subject to availability) in the Mother's Day Giveaway Event that is happening right now!  What is your favorite Original Deano tote print?