As a busy mom who is constantly multitasking I love a product that can multitask right along with me which is why I absolutely love It's a 10 Haircare products!  After many years of using, touching, and applying products in a salon environment, Carolyn Plummer and Scott Scharg set out on a quest to create multipurpose products that delivered salon quality results.  After many trials and errors they finally delivered the fabulous line of products that give you power, flexibility, and simplicity in your daily haircare needs.
Before I had baby Tates I used to have a 'hair routine' that I did daily before leaving the house that included tons of different products and several tools including blow dryer, flat iron, a few different combs and brushes and that is just the beginning.  My hair is long, thick and frizzy and I tried to 'tame' it everyday.  Since having Tates I can honestly say I have maybe 'done' my hair a half dozen times, I typically just pull it back wet and it's done.  Do I like that look?  NO and neither does DJ but I am simply too busy to devote time to getting all done up anymore.  The problem
is
 was (thanks to It's a 10!) I didn't want to try new products and have them fail and be wasted and I don't have money to spend trying new products that I am unsure of, who is with me?
The wonderful thing about these products is that they offer so many benefits and uses for EVERY hair type.  I know what you are thinking, then why do I need more than 1 product?  Well each one has different uses however does multitask so you don't need to use more than one necessarily once you know what you are looking for, make sense or am I confusing you?  Let me explain….
The Miracle Texture Fiber offers all these wonderful hair solutions (shown above) and I like to use it when I wear my hair wavy.  I only use about a penny sized amount of the product and work it in my hands before evenly running it through my hair.  It offers great hold and defines my natural waves without making my hair feel crunchy.  It also controls my frizz and ads shine and when it is humid my hair doesn't blow up so it really is humidity resistant.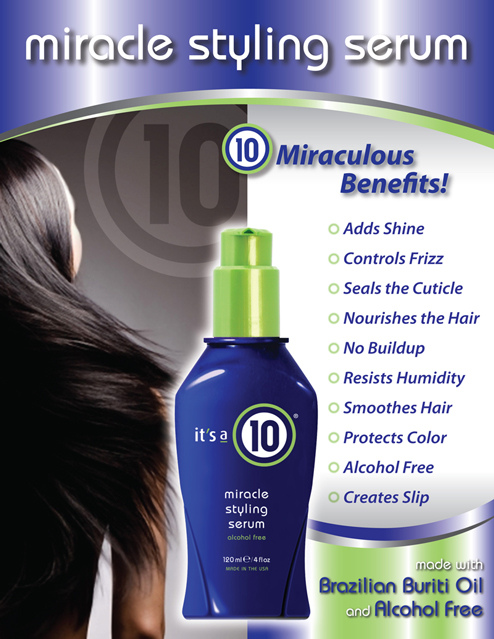 The Miracle Styling Serum is another great product and I use it a few different ways.  When I pull my hair back wet and just wrap it in a bun or loose knot I always work one pump of the product through my combed hair so any frizzy fly-aways are tamed.  I also like to use this on my wet hair before blow drying it as it seals the cuticle and prevents heat damage and protects my hair color (I need to get my hair colored now that I think about it!).
Speaking of needing to color my hair, you know that fresh from the salon feeling you have when your hair is just done?  The wonderful smell of the salon shampoo and conditioner?  It's a 10 Miracle Daily Conditioner allows you to have this feeling everyday in your own bathroom.  I love that it really does hydrate my hair and scalp (no more tight itchy scalp if you suffer from that?) and really makes my hair feel incredibley soft and smells wonderful!
The Miracle Shine Spray with noni oil is a serious styling must have!  My sister likes to mess with my hair whenever she comes over (since I don't get too creative with it) and since my hair has already been 'done' by me for the day she brushes and styles it and gets it all messed up and fluffy when she combs out my waves.  The shine spray is fabulous for smoothing and taming my lioness looking afro while providing thermal protection during the curling iron and flat iron stage of my sister's makeover on me.    Making my hair more manageable for my sister's fun shortens my head pain of her pulling on my scalp.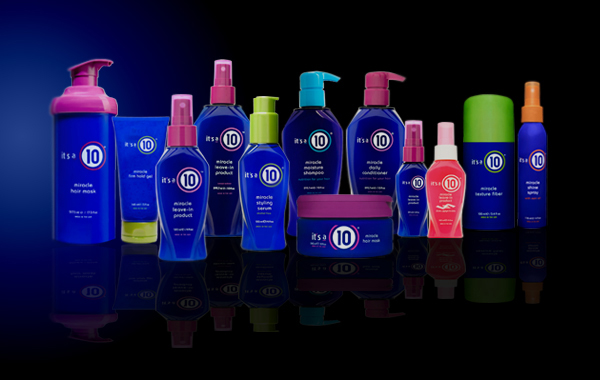 You can purchase any of these wonderful multi-purpose products along with all of the rest of the It's a 10 and get them in your hands fast by using the locate a retailer near you feature on their site.
It's a 10 in a sponsor in our Mother's Day Giveaway package here at Eco Baby Mama Drama!  You can win a bottle of Miracle Shine Spray, what other product(s) do you want to try?  Hurry over and get your entries in!  Good Luck!