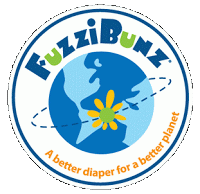 FuzziBunz creator Tereson Dupuy is a mother of three and often called the Mother of Modern Cloth Diapers.  In 1999 after her four month old son suffered from chronic diaper rash Tereson tried every cloth and disposable system on the market with no relief for his little boy she set out and created what is known by so many people today as FuzziBunz.  I know when I started cloth diapering almost 19 months ago it was one of the first brands I heard about however hadn't gotten the chance to try until recently.

The newly released FuzziBunz One Size Elite Pocket Diaper package includes the diaper, 1 easy to replace elastic and 2 minky inserts.  This diaper is newly designed so the adjustable button elastic system found in the legs and the back are inside the pocket therefore there is no button up against babies skin.  The diaper inserts are a new material (the old version came with microfiber) that is minky (size small and medium/large included with each diaper) and offers several benefits such as trimmer fit with the same absorbency (as microfiber), less staining and less odor verses microfiber.  Diapers are available in snap closure only and have fleece as the inner material offering a stay dry material against babies skin and a durable quick drying diaper liner.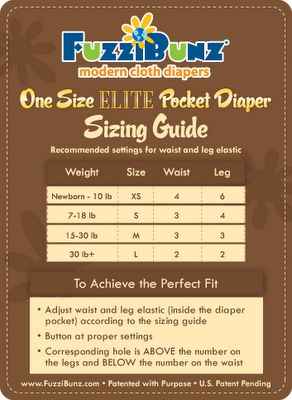 This one sized diaper is very different than any other one sized diaper we have used.  There isn't the typical snap down rise but instead you adjust the leg and back elastic according to the sizing guide (this is only a suggestion, each baby is different), this took me quite awhile to get used to and you definitely don't want to experiment with sizing when baby is fussy as adjusting the diaper and trying on baby several times can be time consuming.  Without the traditional snap down rise the diaper doesn't have as much bulk from the extra material being snapped down and the diaper is more smooth and sleek looking however requires more trial and error to get a good fit on your baby.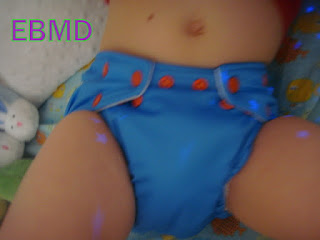 The inserts fit perfectly into the diaper and don't really have much room to move therefore staying in place securely even if you have a very active toddler (like me!) that runs around everywhere never slowing down.  The inserts (we only use the medium/large as Tates is 28+ pounds and a heavy wetter, the small is better for smaller babies) are very absorbent and don't require much prepping at all.  I washed them 3 times before using the diaper on Tates and they held a lot of pee.  The diaper also held a blowout phenomenally well, Tates had eaten Mexican food and had one of the worst diaper explosions I have ever seen and the diaper didn't leak much at all.  I say it didn't leak much at all because I honestly don't think anything could hold what Tates dished out.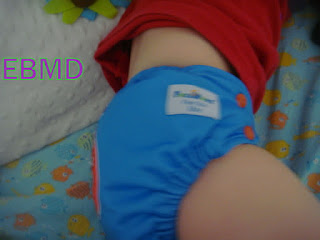 Super trim!
The snap layout is completely different than any of the other diapers we have tried as well and it threw me for a loop,  however we had no issues with the diaper coming undone or leaks so it passes our tests!  The snaps are very strong and as I have mentioned before I love snap closure.  Although the diaper is one sized it seems to be slightly smaller than some other one sized diapers.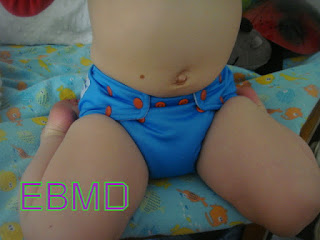 Purchase: FuzziBunz are available in a wide variety or colors and super adorable 'Diaper Talk' prints like the adorable "Does This Diaper Make My Butt Look Big?" one we received! You can locate a retailer right on the FuzziBunz website and even see where the sales are!