Being a cloth diapering mom of a heavy wetting little boy has lead to trial and error of many cloth diapers.  I had heard of Smarti Pants but hadn't tried them and was super excited when I learned I would be able to test them out and share with my lovely fellow fluffy loving readers my thoughts on them.  I was actually sent my gorgeous spring green
one sized pocket diaper
before Tates fell ill with c-diff so we have owned it for a long time now and have just recently had the pleasure of using it.  When I found out I would have to destroy our entire diaper stash to prevent future risks of reinfection I went crazy entering giveaways trying to win cloth diapers so we could be able to get back into cloth once Tates was clear and I was lucky enough to win a beautiful hot-chocolate colored Smarti Pants pocket diaper, what a blessing!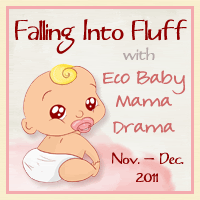 The first thing I noticed about the diaper was obviously the name, Hello Adorable!  I mean can you think of a cuter name because I sure can't!  The tag shows off the adorable logo which is placed on the outside back of the diaper for  everyone to see and not rub on babies skin.  I am a huge fan of tags and snaps not touching babies sensitive skin so this is a big plus in my book!
I chose these 2 colors because they were both gender neutral and such deep and vibrant colors.  We do want to have another little one someday so most of our diapers are gender neutral in color.  Both of these beauties have stayed true to their color and look the same as they day they arrived on my doorstep.  With us having a super small stash the few diapers we do have have gotten lots of washings already and they are in perfect condition.
One of my favorite features of this diaper is that it has a super cool patented Smart Sleeve to keep the trim yet absorbent polyester-nylon blend insert in place. The diaper does only come with 1 insert.  This is a great feature when you have a baby that moves around a lot whether crawling or running around the house, the insert never moves out of place and helps to avoid leaks! Tates is super wiggly during diaper changes so much so that some diapers end up getting the inserts out of place before the diaper is even on but that is definitely NOT the case with our Smarti Pants.  Another fabulous thing about the smart sleeve is you do not have to mess with wet dirty inserts!  The smart sleeve holds the insert in place and will come out in the washer on its own!  With microsuede as the inner part of the diaper touching the baby a stay dry feeling is a plus in my mind however you do need to make sure your insert is tucked in completely into the sleeve and isn't touching babies skin as it will cause dryness and irritation.
Great fit and super trim!
The encased elastic is very gentle on babies thighs and around his back side yet strong enough to hold in any poo that heads in it's direction.  With a snap down adjustable rise this diaper can fit babies from 7 pounds to 35 pounds and in my opinion is a bit smaller than other one sized diapers making this a great diaper for smaller babies and larger ones like Tates as well.  I was actually a bit hesitant when I saw that there was only one row of snaps on the diapers as we have experienced some wing droop before and that can cause leaking however the belly panel is very generous and wraps around babies belly hugging them very nicely and making a nice comfortable fit.  If you have a smaller baby there are crossover snaps which is always nice in my opinion.
With very little packaging and the diapers being made in the USA I know what you are all wondering, price.   This diaper is very affordable, priced at $14.95 for a single diaper and after you try it and love it you can get them even cheaper by purchasing them in sets of 3, 12 and 24.  You can also purchase extra inserts and smart totes (wet bags).
You can purchase any or all of the above mentioned products directly from the Smarti Pants website!