Oh Katy is a
one sized pocket cloth diaper
 that is adjustable with a snap down rise designed to fit babies from 8 pounds to 35 pounds.  This diaper is available in snap closure only which we prefer at our house as Tates can undo aplix/hook & loop closure sometimes.  This diaper is (in my opinion) slightly smaller than some other one sized diapers which makes this a fabulous option when you are using cloth on a young baby.  Both my boys were large babies and I think they would have fit in this diaper at the hospital as a newborn.  The newborn hip snaps are a great feature no matter what age/size your baby is to prevent wing droop.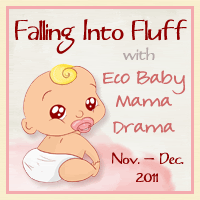 Something that I wasn't too familiar with when I received our adorable melon colored diaper was a front pocket opening.  The opening has a very generous flap that closes over the insert and lays perfectly flat on your baby's belly and no overflow or shortage in the back hanging over the diaper!
There are 2 microfiber inserts included with each diaper making it easy to customize absorbency by using the newborn sized insert as a doubler if needed with a heavy wetter and use your diaper on your newborn without having a bunched up long insert issue.  The larger insert is adjustable with snaps just like the rise on your diaper making it easy for your insert to stay the way you want it, no worrying about folding inserts to fit!  I love that the included inserts have the Oh Katy tag sewn on them allowing easy match up of diaper to insert during diaper assembly after fluff laundry.
Ultra soft microfleece is a serious understatement, this diaper has some of the SOFTEST microfleece I have ever felt!  This diaper is very luxurious feeling.  The microfleece is also very easy to clean any poo messes your little one throws your way.  This diaper is fabulous for diaper bags as the 'wrap n' snap' feature allows it to fold up super small even when soiled; this is a great thing for moms on the go that happen to forget their wet bag!  This is a great emergency diaper for mom's purse too!  As you can imagine this diaper is super trim even with more than one insert!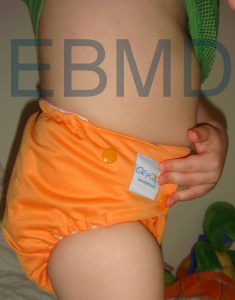 Another great feature of this diaper is the gentle leg gussets that make NO red marks on Tates thunder thighs!  Tates gets red marks quite a bit from elastic that is too tight (this drives me nuts!) however our Oh Katy diaper leaves no red marks!  I recently won an Oh Katy diaper during an online stores celebration and I was elated to be adding another one of these to our stash!
Working with Katie, the mom inventor behind Oh Katy diapers has been a great experience for me and getting to know her has been a pleasure, I am sure you all didn't know she still works from home-out of her garage actually!  She began back in 2008 by sewing up a few diapers out of t-shirts to keep costs down and as she got more experienced and gained better tools and nicer diaper making materials her business took off!  Now being manufactured to keep up with the demand however Katie is still very much a part of her business.  She is the proud mother of 4 beautiful children (with one on the way!) and her kids enjoy helping her pack up diapers to be shipped to fluffy bums everywhere for all to enjoy!
You can purchase any of the 14 fabulous colors (such a wide array of colors!) from the
Oh Katy website.  Right now they are on sale too!!  Buy 5 get 1 free!  Sale is good until December 16th so hurry!
*I was sent an Oh Katy diaper free of charge to facilitate my review, all opinions are that of my own*