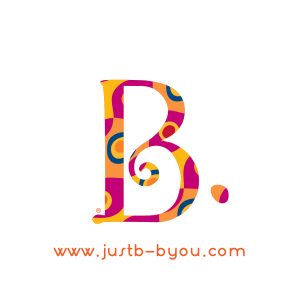 Toys!!  Here at the EBMD house we love toys!  They are fun, entertaining and as of lately with the speech therapy Tates has been going through we are learning that toys can be a very important part of the learning process for children.  
At B. toys they do things a little differently than traditional toy companies.  First of all the the toys are different, not your traditional colors, textures and designs that you see on any random shelf when you are in a store; these toys break the mold and are inspired by the world around us.  The toys inspire individuality and creativeness in every child as shown in their signature catch phrase: Just B. Just you. B. you.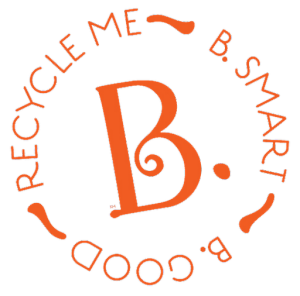 B. toys also takes care of mother earth with it's manufacturing processes and minimizing while using recycled materials and making the packaging not only reversible but also reusable as some of the packaging can be used as it's own gift wrap.  The inks are soy-based and varnishes are water-based.  100% of the clear plastics used are recyclable and marked #1, the most widely recycled plastic available.




With Tates loving music so much I was elated to be able to review the award winning Meowsic toy.  The adorable cat inspired design with a keyboard for teeth was an immediate hit with Tates and T-Bone!    The toy is very light weight as Tates can actually carry it on his own and there is a very neat little handle embossed in the back of the cat's head.  The paws house the 5 instrument sounds on one side and the opposite paw is where you find the 5 rhythm sounds and a wonderful play/record button.  This is my favorite part of the toy as it is used with the attached microphone which Tates loves too!  The size is perfect for his little hands to hold and sing into (or have him hold up to your mouth when he wants to do a duet!) and has a handy chord that is retractable with the simple touch of a button so you never lose your Meowsic mic!
There is an on/off button that is easily used by kids and adults and also if left on for awhile without being used Meowsic will "Purr" to remind you to that it is still on and then turn itself off so you aren't wasting batteries.  You can adjust the tempo up and down easily which is fun when you want to get super silly and there is a volume button which can be nice when you might not want to have the volume take over an entire room (with kids that could never happen huh?!).  The kitty's nose also doubles as a stop button so you can reset whatever tempo or song you created and start from scratch.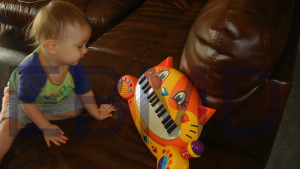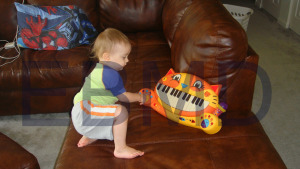 Equipped with 20 familiar songs and 7 'kitty witty' songs this toy is sure to have your kids entertained and happy and would make a great gift for your child or a child's friend.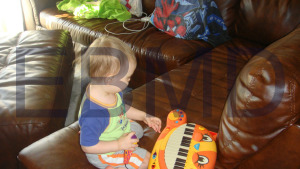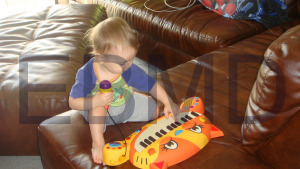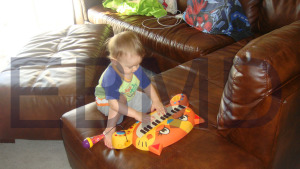 B. toys offers so many great toys that are on my Tates Christmas list this year, which toy is your favorite from B toy?


Be sure to connect with B. toys on Facebook and Twitter!


FTC Disclosure: I received the product(s) mentioned above free of charge by the company or PR representative in order to conduct an honest review. I was not compensated in any other way for this post. The thoughts, experiences, and opinions included are entirely my own and may differ from that of others. I am not liable for any issues you may incur from use of said product(s). If you have any questions you can contact me or leave a comment.