With kids heading back to school and most families on a budget and trying to eat healthier more and more kids are bringing lunch from home.  This is a great idea except when you think about all the waste caused by plastic bags.  After starting to cloth diaper (and use cloth wipes!) changing over to reusable bags was the next smart step for our family.  I recently had the opportunity to try out the Bag Your Snack line from Planet Wise and was more than excited.

Diaper Safari carries all of the bags that Planet Wise makes and they sent me the sandwich wrap, window bag and snack bag all in 'On the Road' print.  T-Bone chose the print as he would be the one using them everyday at school and I have to say it is very cute!  The colors are bold and fun for both my boys actually, not too mature for Tates (18 months now) and definitely not childish for a young teen (T-Bone just turned 13).
The bags are very well made, they feel thick and strong even after several washings.  I really like that you can just wipe them clean OR you can toss them in the washer for heavier messes.  The stitching isn't fraying at all and they look just a vibrant as the day we received them.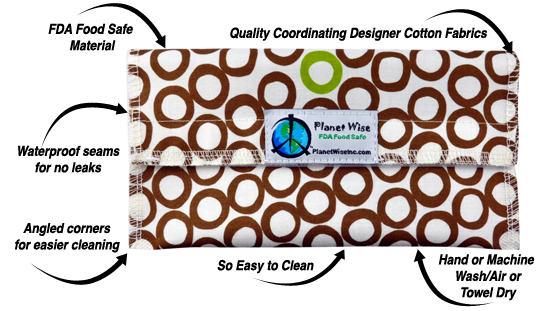 All Planet Wise Bags are made with FDA Food Safe Material, FREE of PVC, BPA, Phthalate, Latex and Lead and are CPSIA compliant which is definitely very important.
The snack bag is 3.5″ x 7″ and has a strong hook & loop closure that goes all the way across the bag which is great for making sure your little treats don't get out.  This is the perfect size bag for toddler snacks or a few cookies for T-Bone's lunch.
The window bag is the same size as the sandwich bags; 5.5″ x 7″ and has a see through front area so you can what is inside without having to open the bag.  It's a nice feature for inquisitive kids (or husband's).  This is a good size for sandwiches and chips or cheese snacks which is what we use them for.
The sandwich wrap is my favorite, it measures 13″ x 13″ and is the best thing for sandwiches in my opinion.  The reason I love it so much is that once you open it up you have an immediate clean surface to eat on, whether at the lunch table or outside at the park on your lay it makes a great place mat and you don't need to waste a paper plate.
I have to say that I am not a fan of hook & loop closure however these are holding up so nicely and are the first things I reach for to prepare T-Bone's lunches everyday.  T-Bone isn't a fan of hook & loop either but he really likes his bags!
Diaper Safari is sponsoring a set of Planet Wise Reusable bags just like the ones I received (in your choice of in stock prints)  for one lucky winner during the Back To School Giveaway Hop starting on August 22nd and running through August 31st!
Super easy Rafflecopter entry form and I will also have another prize package along with this one!
Feel free to connect with Diaper Safari on Facebook, Twitter and subscribe to their newsletter and you can use these as extra entries when the Giveaway Hop starts!