This week is Child Passenger Safety Week, and RECARO wants to Spread the word!
Have you seen the Performance Ride Convertible Car Seat?
Check out the info and features below and enter to win one!RECARO sent my blogger friend Amy, from This Mama's Life their RECARO Performance RIDE Convertible Car Seat to use on her new baby girl and share her thoughts in a review…

A little about Recaro: RECARO has over 100 years of history designing seats for the world's most prestigious automobiles, airlines, and race cars. RECARO is German engineered, and an international leader in seating safety, design, comfort and style. RECARO is the pioneer of child seat side impact technology, going beyond any side impact requirements as tested with the ADAC European standard. For your peace of mind - every seat is built with RECARO's superior side impact protection technology. (Recaro) If you are looking for a Long Living Car seat this is the one for you. It was created to hold children 5 lbs all the way to 65 lbs! This particular model car seat will sit rear faced all the way up until 40lbs.
Amy ~ Have you ever pinched your little ones legs in the Buckle? That was always one of my worries as a new mom. But RECARO has you covered. They created the buckle on top of a section of material To help prevent pinching the legs - and to add just a little padding between the buckle and your little one.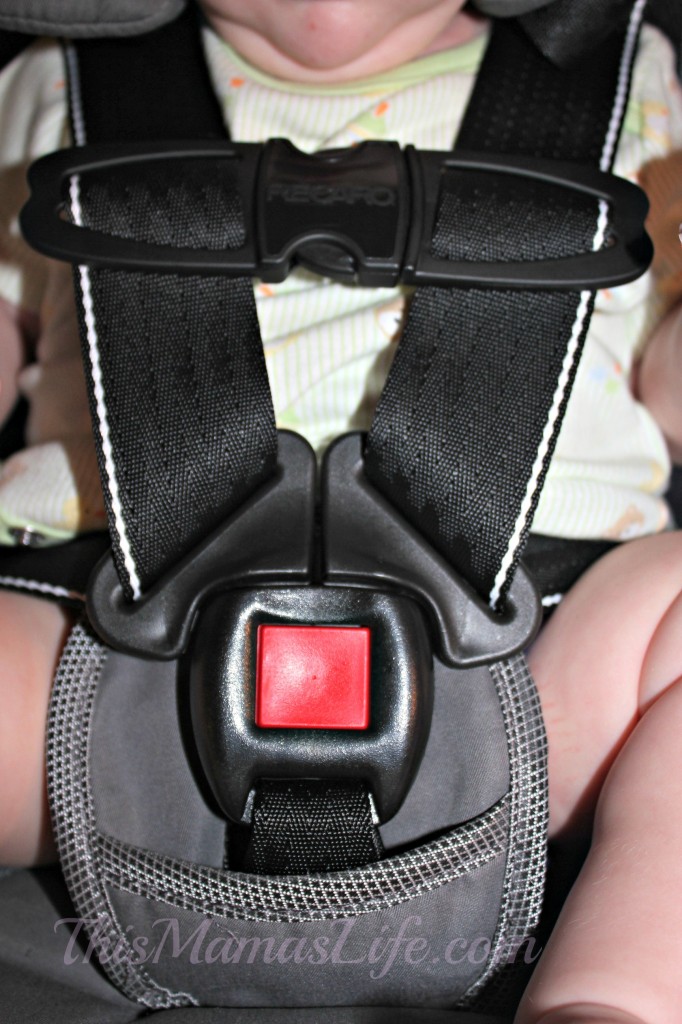 And do you see the white stripes going down the sides of the harness? With one glance now you can make sure that the Harness straps are not twisted in any way. A bonus in this Mamas Book.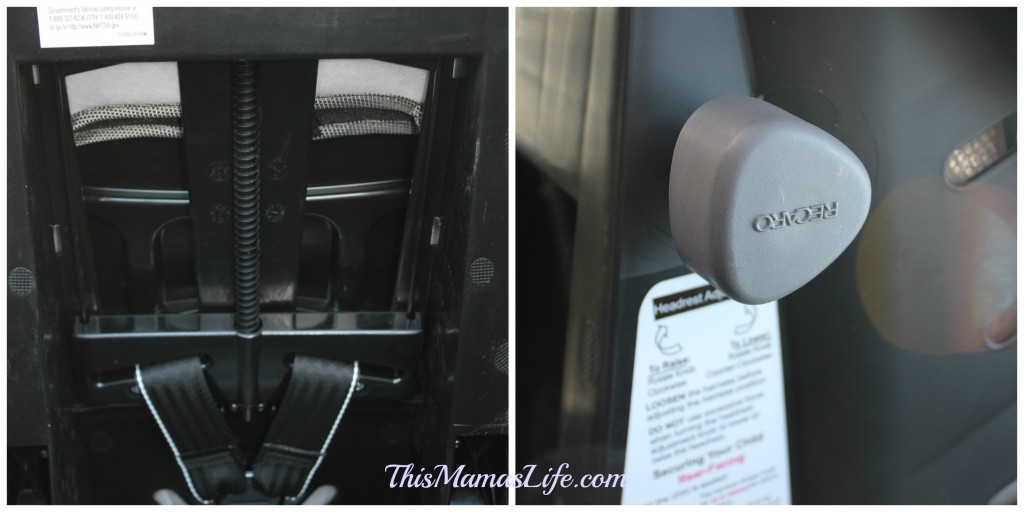 One of my favorite features of this car seat is the Easy Adjusting 5-Point Harness. If you look at the back of the car seat you can see that there is no re-threading necessary to adjust the position of the harness. When you use the side knobs to adjust the Headrest, it also adjusts the Harness. Anything that makes life a hair easier is Loved by this Mama!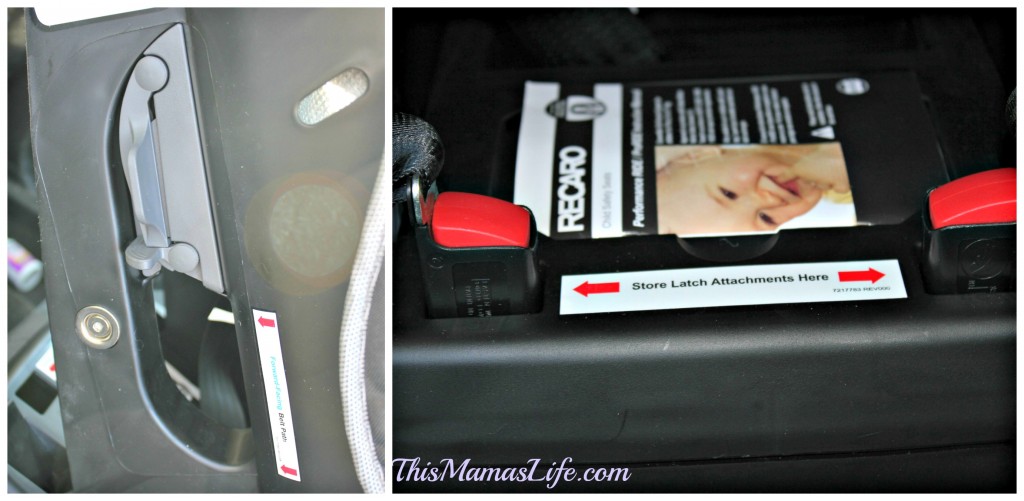 Some of the other features that I really enjoy about this car seat is the fact that there is a SECURE location to thread the Cars Seat belt through. This is for when you use your car seat as Front Facing. Also, if you are ever in need of the Owners Manual, you can look at the back of the car seat on the base - and you will see where it is snugly tucked in. I remember with Lil C's car seat, we needed to refer to the owners manual a year after installing it in our car, and we couldn't find it anywhere.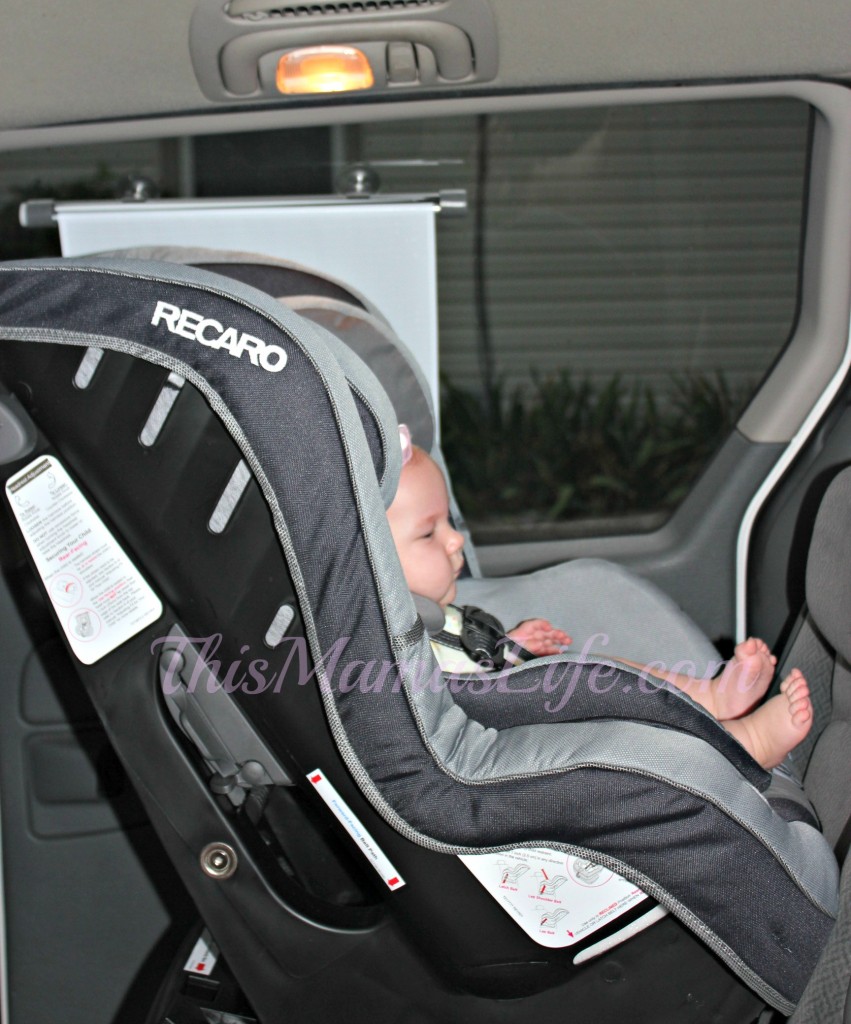 Buy the RECARO Performance RIDE Convertible Car Seat 
You can purchase the Recaro Performance Ride Convertible Car Seat at various retailers such as Buy Buy Baby, Babies R Us, Amazon
, Diapers.com, and more.
WIN the RECARO Performance RIDE Convertible Car Seat 
One Lucky Reader will win a Recaro Performance Ride Convertible Car Seat of their own! Entering is Super Easy - Just fill out the Rafflecopter form below
a Rafflecopter giveaway

Disclosure of Material Connection: Amy received one or more of the products or services mentioned above for free in the hope that she would mention it on her blog. Regardless, we only recommend products or services we use personally and believe will be good for our readers. I am disclosing this in accordance with the Federal Trade Commission's "Guides Concerning the Use of Endorsements and Testimonials in Advertising."