It's no secret that I've been on a mission to make more eco-conscious choices for my family but also share our experiences with you in an effort to raise awareness and help your family make safer choices too. Choosing "greener" products for our families is not only good for our health but also for the environment and having the help of major brands makes it easier to forge changes that can make a deeper impact. I'm excited to have the chance to partner with
Seventh Generation
 to help spread awareness about the importance of chemical reform in the United States.

Did you know that most of the products we see on store shelves are filled with dangerous chemicals? It is scary to think we are constantly exposing ourselves and our children to these toxically harmful ingredients. This is exactly why we need to stand up together and make changes!
Why is Chemical Reform Necessary?
More than 80,000 chemicals available in the United States have never been fully tested for their toxic effects on our health and environment.
Scientists have linked exposure to toxic chemicals to many health risks, such as Cancer, Alzheimer's, learning disabilities, asthma, birth defects, and various reproductive problems.
The Toxic Substances Control Act (TSCA) was passed in 1976, and unlike other major environmental laws, has never been updated. As it currently stands, tens of thousands of potentially harmful chemicals continue to be used in the marketplace since the 1970's without proper testing and without disclosure by the companies that produce them.

For additional information to learn more visit the

Natural Resources Defense Council website

.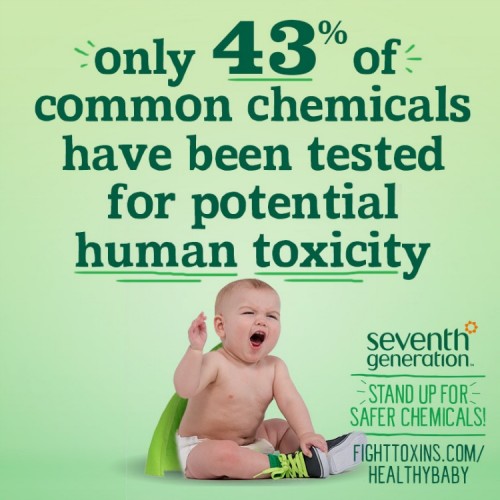 What Can You Do You To Spread Awareness And Get Involved?
You can become a Toxin Freedom Fighter by signing Seventh Generation's petition to urge Congress to reevaluate the Toxic Substances Control Act for the first time since 1976.
Make sure that parents and the general public are aware that of the 80,000 synthetic chemicals introduced into the market since the Toxic Substances Control Act was passed in 1976, the EPA has required testing on less than 10%.
Help Seventh Generation reach its goal of collecting 100,000 Signatures by April 24th by signing the petition for chemical reform and urging your friends and family to do the same!
I signed the petition — will you? Click on the badge above to sign the petition and stand up for safer chemicals!
Are you worried about the harmful chemicals found in everyday products? What steps do you take to avoid them?