I don't think I have shared this yet, I am moving. Our lease is up and we have to be out by the end of the month. We have been searching for a house to rent but have had a very hard time finding one that meets our needs. We have probably seen a dozen houses and *FINALLY* found one and we got it! Yay! Now to pack, ugh! So I haven't been able to workout as much the past week as I wanted to however with house hunting I have been walking a lot more and even eating my Nutrisystem meals while out and about!

The dreaded weigh in….I gained this week AGAIN. 

 I am up another 2.4 pounds and really upset about it. This brings my weight loss total to only being 1.0 pounds now. I'm not going to sugar coat it, I feel like a failure. I am really sad about gaining. I mean I know muscle gain is part of it but I don't feel more muscular? And 2.4 pounds in a week? That seems high to me.
With the move coming in a little over a week and a zillion boxes to pack I am hopeful I will be burning a TON of calories and will drop some mad weight, cross your fingers for me OK?
You can follow my progress each week during Trim Down Thursdays, check out my last weekly update. Let's talk TRIM! What are you doing to trim down and be healthier? I'd love to follow your progress, make sure to leave me a comment and I can visit your healthy living post!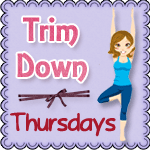 Want to lose weight and get healthy on Nutrisystem? Join today by calling 1-888-853-4689 or by visiting Nutrisystem for more info!