Going on 2 1/2 years of cloth diapering my little one and I am finally making the steps to use cloth myself. If you think about it the two really have a lot in common and I can't believe I didn't make the switch sooner. Thanks to Sue from Pink Lemonade cloth pads shop I am able to take that leap and share my experiences so far.
Functional beauty, Exceptional quality really does say it all. Sue offers some of the most gorgeous custom made and one of a kind cloth pads I have ever seen and I have done research online since going to the reusable cloth pads side. Her vendor fabrics are fun and pretty and the hand dyed bamboo she offers are truly gorgeous creations.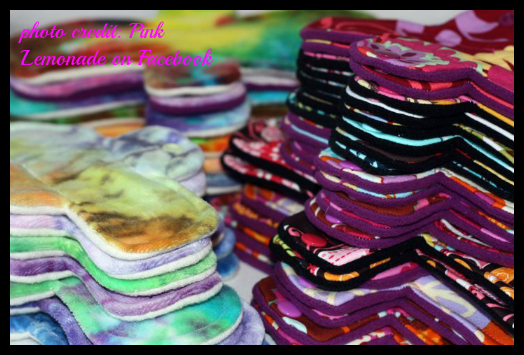 I love the wide variety of options that are offered for your monthly needs. Original width and wide width as well as several length options. You can also choose regular shaped or thong cut so whatever undies you prefer you can green your period ;). Original width pads are a straighter style, whereas the wide width is a more hourglass shape.  Sue recommends original width for teens and petite ladies and wide width for everyone else.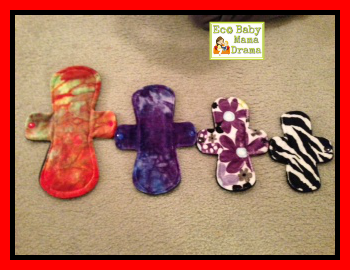 Sue generously sent me the following to start my stash:
 6″ Mini Liner (original width) in Zebra print Minky
8″ Light Pad (wide width) in Purple Floral Minky
9″ Day pad (wide width) in Berries hand dyed Bamboo Velour
11″ Overnight pad (wide width) in Vivid Rainbow hand dyed Bamboo Velour
After receiving them I couldn't wait for my cycle to start (I've never said that before lol!). I was kind of expecting to feel like I had a diaper on but I totally didn't. I actually was very comfortable and there was no bulky feeling (which is the reason I have never been a disposable pad fan).
I love the all natural healthier option Sue's cloth pads offer (verses disposable). There is a layer of wind pro fleece for breathable waterproof coverage and bamboo fleece for a natural absorbent core. The pads stay in place with easy to use high quality snap closures.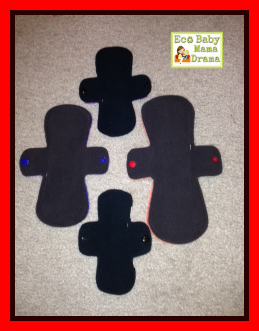 Some more fabulous news? Your pads come pre-washed and ready to use, you can literally use them the day they arrive! Your Pink Lemonade pads won't shrink and are super easy to care for:
Rinse in cold water after use.
Toss in your laundry basket or wetbag until washing day.
Wash and tumble dry in Warm or Cool temperature water and dry cycle (you can wash them with your cloth diapers or clothes!).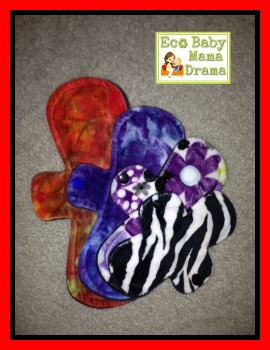 A few things you should avoid to prolongue the life of your cloth pads:
Bleach
Vinegar
Dryer Sheets or Fabric Softener
Ironing
The 'Sanitize Cycle' on your washing machine, if it has one.
Sue's prices are very affordable and her turnaround time is very quick too, fabulous customer service! One lucky reader is going to win their own little starter set of   (4) 7.5″ Minky pantyliners in surprise prints!