Green Baby Goods is a cloth diaper store that is locally owned and operated by a fellow natural parenting mama here in Indiana. Erica not only works full time outside the home while running her shop but also keeps busy with her husband and two boys! It really warms my heart to see a quickly growing business in what is not necessarily the best economy right now….every time I browse Erica's site I see several new products she has added to inventory.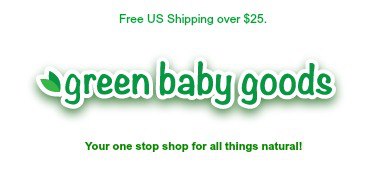 You can expect to see all natural skin care items, baby carriers and of course cloth diapers on the store's website! Erica sent me a Groovycheeks cloth diaper to try out on Mr. Tates and I immediately liked it! Some of my favorite features are:
Three Snap Rise - one size fits most and can be easily adjusted as baby grows
Hip Snaps - the extra snap on the hip area prevents wing drooping
Bamboo microfleece inner lining - stay dry against babies skin
Crossover snaps - great for tiny waists
Back pocket opening - easy to stuff and unstuff without getting hands messy

The green apple color PUL fabric is super soft, it feels like your favorite old t-shirt and stays soft even when it is hung to dry (no crunchy feeling ;)).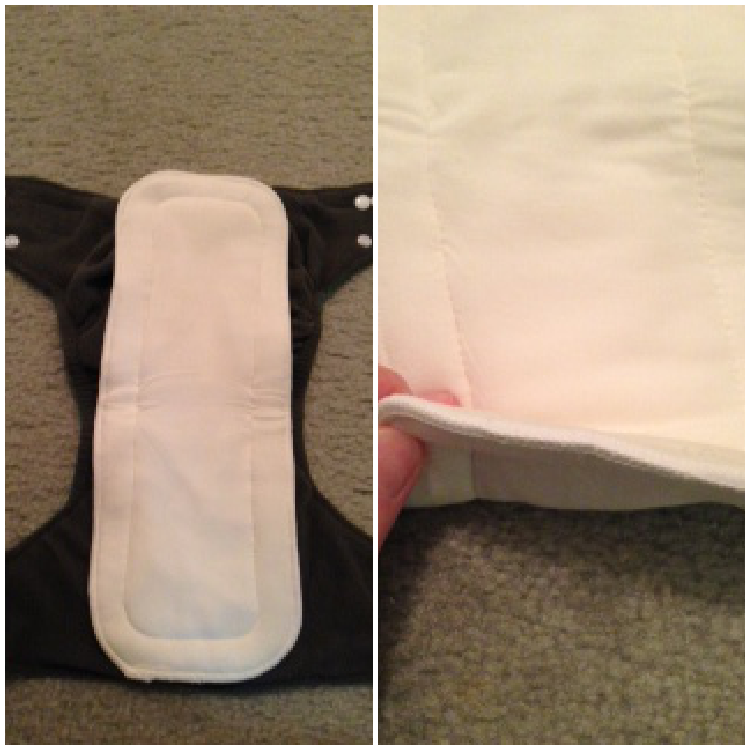 The diaper comes with one insert that consists of one layer of 70% bamboo rayon and 30% cotton on the outside and 80% poly 20% nylon (microfiber) on the interior 3 layers for maximum absorbency. The insert fluffs up nicely during the prep process and is very absorbent yet still trim.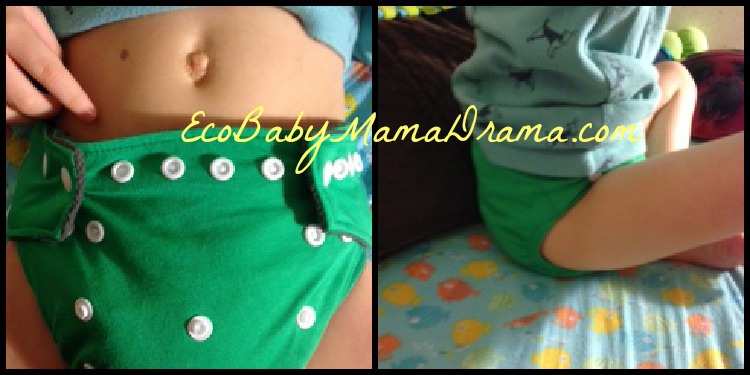 The leg elastics are very gentle on thick thighs but are strong enough to hold in a big mess without leaving any red marks. With a super active toddler the two rows of snaps (hip snap) are great!
Tates soaked the diaper at nap time so I would recommend that another insert be added if you plan on using the diaper overnight.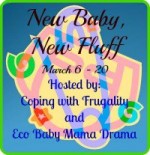 Make sure you drop by and see what special sponsor Amanda my co-host from Coping with Frugality is featuring for New Baby, New Fluff and what you can win!
Buy It: Green Baby Goods has an amazing sale going on right now where you get a FREE One Sized Pocket or Cover with every $30 purchase! Just put code freeforme in at checkout and add a comment on if you want a cover or pocket and if it's girl, boy, or gender neutral!
Win: Green Baby Goods is generously offering a $30 Gift Certificate in the New Baby, New Fluff Grand Prize! Go enter now and leave me a comment here on what items you love and would buy if you win!