My most recent out of the home job before becoming a full time stay at home mommy was IT Procurement and Resources Coordinator for the school district that we live in. That's a fancy title for purchasing and inventory for all things technology related. Just think about everything that is in your child's classroom….projector, printer, computer, telephone, now multiply that by each classroom in each school across the district. And don't forget to add in the school offices, libraries and various other things like mobile laptop carts. We are talking about A LOT of electronics.
If you know anything about the world of electronics you know things are always changing, updating and evolving which means we (everyone in general) are replacing our equipment pretty often right? Whether you are upgrading your home printer, tossing out rechargeable batteries or cleaning out the old cell phone drawer, are you disposing of your electronic items properly?

Best Buy has a great recycling program that I recently learned about, click the link to find lots of useful info! Some information I found really interesting: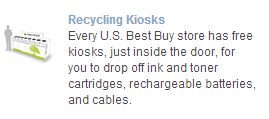 Best Buy will recycle any electronic – tvs, computers, cameras, even appliances, and so much more! Guess what? The Best Buy Electronics Recycling Program is FREE. Didn't purchase it from Best Buy? No worries, they will still take it! Is it so old you don't even remember what it was used for? Best Buy will take your items no matter how old they are ;).
Small everyday items like ink cartridges, miscellaneous cables (you don't even know what they belong to!), and batteries (rechargeable or not) can be recycled and safely disposed of. Every Best Buy location in the US and Puerto Rico has a drop box right as you enter the store. Each Kiosk is marked for easy disposal and a great way to get kids excited to help recycle!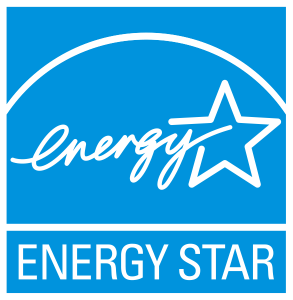 Going green in your home on a larger level? Best Buy will haul away your old electronics/appliances when they are delivering your new ones. Now that is customer service at it's best! Make sure you check out the products marked with the Energy Star. Save your family some money by using less energy, it's a win-win!

Who wants some credit for their unused electronics? Me! Check out the Trade-In program and bring your gently used items to Best Buy and trade them for a Best Buy Gift Card. Between my teen and his video games over the years and my husband's old IT equipment we are definitely going to be checking our trade in values!
Just think what a huge difference we can all make! With an industry leading company like Best Buy helping to keep the planet green and safe, we can make a difference together!

Best Buy recycles 387 pounds of electronics each minute their stores are open. That is HUGE! Way to go Best Buy!
I already have a collection of items to recycle for our next trip to Best Buy and am sure with our upcoming move we will have plenty more to add to our pile.
What about you? Have you used Best Buy for recycling before? What do you think you will get rid of safely first or most often?
The reviewer has been compensated in the form of a Best Buy Gift Card and/or received the product/service at a reduced price or for free.